With colder weather comes an increase in electricity and gas use. New Australian Energy Council data shows that winter electricity bills can be more than $200 higher than in summer, contributing to a significant part of a household's annual energy costs. But there are a few simple things people can do to save money on winter heating bills.
The AEC is publishing its first analysis of average electricity and gas costs by state and local areas using the latest energy consumption data. It shows seasonal breakdowns of energy use for each major network as well as state by state average gas and electricity costs.
State by state
For people living in South Australia, Victoria, New South Wales and the ACT, winter is when their average electricity use increases. It is an easy assumption that more electricity would get used in summer, but while the warmer months may result in higher peak demand days, more electricity is consumed during cold weather.
It is a similar story for gas. Nearly half of all annual gas use in Victoria, Tasmania and the ACT homes occurs during in the winter months. As a result, in Victoria gas bills on average are $336 higher than in summer.
In Tasmania, the increase is even greater with winter gas bills on average $587 higher than in summer.
Figure 1: Average electricity cost by state and season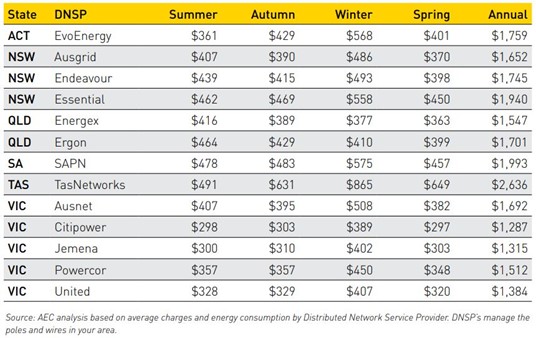 Figure 2: Average electricity consumption (kilowatt hours, kWh)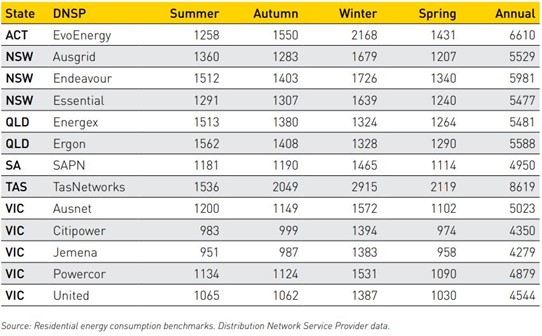 Figure 3: Average gas bill by states by season ($/MJ)

Tasmania has the highest winter electricity consumption with nearly twice its average summer use. Average consumption in South Australia, Victoria, New South Wales, and the ACT is highest in winter, while Queensland's electricity use is highest in summer.
Figure 4: Average seasonal gas consumption by state (megajoules, MJ)
Unsurprisingly, gas consumption is higher in winter given its use in household heating. Nearly half the annual gas use in Victoria, Tasmania and the ACT occurs in winter, in South Australia and New South Wales it accounts for 40 per cent of the total gas bill.
Even in Queensland winter accounts for 35 per cent of annual household gas use. Victoria has the highest average winter consumption (23,435MJ out of a yearly total of 49,779MJ).
Energy prices falling
While energy prices falling once again is good news for households it is important consumers also realise this is a safety net, and they will be able to save even more by engaging in the market.
This week the Australian Energy Regulator announced its latest Default Market Offer. The price for 727,000 electricity customers on a standing offer will fall by up to $116 for households and $441 for small businesses from 1 July 2021.
The ACCC's Inquiry into the National Electricity Market September 2020 Report shows residential and Small and Medium Enterprise (SME) customers who have switched to market offers are reaping the benefits of retailers' efforts to keep prices down (this data included Victorian customers on the Victorian Default Offer).
The ACCC found the median effective price paid by residential market offer customers across Victoria, New South Wales, South Australia, and South East Queensland was around 17 per cent lower than standing offer customers in 2019.
"For a standing offer customer that used a median amount of electricity from the grid, this difference means switching could save $219 a year. In the case of SME market offer customers, their median effective price across the four regions was around 25 per cent lower in 2019. This difference means switching could save a SME standing offer customer that used a median amount of electricity from the grid $424 a year,"  the report said.
So, it does pay for consumers to ensure they are on the best deal for their energy use. This also supports a wider message for consumers to consider simple, but effective steps to reduce household energy use. Encouraging people to consider the appliances they are using in addition to the energy ratings of those appliances can also lead to significant savings, for example:
A 5-star rated reverse cycle air conditioner is a relatively cost-effective source of heating. Analysis of different types of heating shows that this is one of the least expensive ways to heat a home. On the other hand, households that use gas space heating are estimated to use three times the level of gas of homes that do not. Sustainability Victoria has a useful rundown of the likely running costs of different types of home heating systems here.
Improving a home's thermal efficiency through improved insulation and double glazing of windows, while initially expensive to retrofit, can lead to substantial energy savings over time.
It's also important to seal drafts in windows and doors, take advantage of sunlight during the day and using curtains or blinds at night to try and keep as much heat in rooms as possible. Closing vents in rooms not being used will also help. Little things like this add up.
Talk to your retailer
However, the main message industry continues to convey is to reach out for help: If someone is having trouble with their energy bill, or is even anticipating bill stress, having a conversation about it with your retailer will help.
No one will be disconnected if they are talking to their retailer about overdue bills or if they are in a re-payment plan. Retailers have many options to make sure customers are supported, connected and warm this winter. It pays to talk to your retailer.
View the AEC's winter energy bills factsheet here
Related Analysis
There has been growing concern about inflationary pressures, the prospect of higher interest rates and higher fuel costs for the economy generally. But what do these factors mean for electricity prices? We have taken a detailed look at the factors at play and how they are likely to determine and influence our power prices.
The Australian Energy Regulator recently released its Draft Determination of the Default Market Offer for 2022-23, where it intends to switch from the currently used indexation methodology to a cost build-up methodology - a significant move that will influence how the final DMO price is set.
Retail household electricity prices in the National Electricity Market are the lowest they have been for eight years, but how do the prices stack-up internationally? New Australian Energy Council analysis compares the prices against the world's 38 OECD countries.