Recent papers from key national bodies have highlighted the continued strong growth in renewable generation development in Australia, as well as its flow-on to job numbers in the sector, while also flagging some emerging head winds. We take a look.
The Australian Bureau of Statistics (ABS) has released its latest figures for employment in renewable energy activities, while the Reserve Bank of Australia has released a bulletin, "Renewable Energy Investment In Australia", that outlines the factors driving recent projects and assesses future trends.
The ABS data show a 27 per cent increase in total employment between 2017-18 and 2018-19, while the increase over the past 10 years has been 120 per cent (shown in Figure 1).
Figure 1: Annual direct FTE employment in renewable energy activities, 2009-10- 2018-19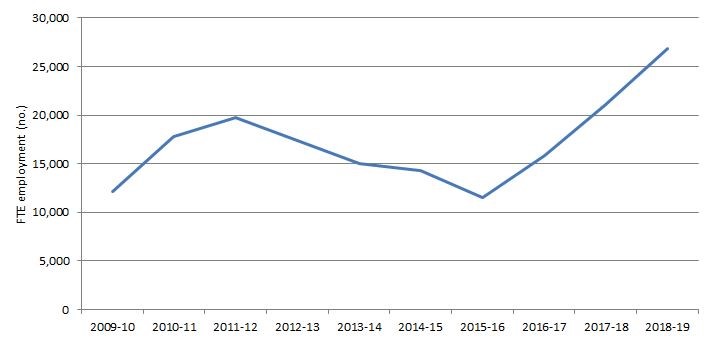 Source: ABS Employment in Renewable Energy Activities, Australia, 2018-19, 6 April 2020

The ABS estimates that 26,850 Australians are now employed in renewable energy with almost half are in the more labour intensive rooftop solar sector, which stems from the fact that more than 2.2 million homes now have PV panels on their rooftops.  Most of the renewable sector jobs are involved in building systems - installing solar panels or constructing wind farms, which, once complete are unlikely to require the same job numbers given the highly automated, low maintenance and fuel free nature of the technologies.[i]
The increase in full time equivalent employment in renewable energy activities between 2017-18 and 2018-19 was driven by an increase in activity putting solar photovoltaic (PV) systems on rooftops (2880 additional FTE jobs), large-scale solar PV systems (1600 additional FTE jobs) and wind farms (1220 additional FTE jobs).
Solar energy accounted for over 75 per cent of the increase, while the top three renewable energy types (rooftop solar, large scale solar and wind) contributed 99 per cent of the increase in FTE employment in renewable energy. Biomasss was the only renewable generation type to see a fall in employment between 2017-18 and 2018-19 (down by 70 FTE jobs, or 4 per cent).
Rooftop solar PV systems remained the largest FTE employer among renewable energy sources, comprising 13,070 FTE jobs, nearly 50 per cent of the total FTE employment related to renewable energy in 2018-19. While employment in this category has fluctuated over time, it has been the largest single contributor in each year of the ABS's published time series.
Employment in the renewable sector is now at its highest level since 2011-2012 when employment in rooftop solar PV made up 72 per cent of total direct FTE employment in renewable energy activities. The jump in household solar at that time was spurred on by generous state-basedsolar feed-in tariffs (subsequently amended), a stronger Australian dollar, as well as a general drop in the price of solar systems.
Table 1: Employment by renewable project type[ii]
| | |
| --- | --- |
| Renewable Type | FTE |
| Rooftop solar PV | 13,070 |
| Large-scale solar | 4740 |
| Wind | 3240 |
| Hydro | 3060 |
| Biomass | 1580 |
| Govt/NPI* | 1120 |
| Geothermal | 40 |
*Government and Non-Profit Institutions (NPI) employees are recorded separately since they are typically engaged in activities that cut across various types of renewable energy.
All states reported an increase in FTE employment related to renewable energy activities between 2017-18 and 2018-19. Victoria reported the largest increase (up by 2540 FTE jobs, more than 70 per cent), with New South Wales (NSW) and South Australia reporting rises of 1540 (25 per cent) and 750 (41 per cent) respectively. In NSW and Victoria this increase was mainly driven by the construction of rooftop solar PV.

Together NSW, Victoria and Queensland accounted for 75 per cent of all FTE employment in the renewable sector in 2018-19. The Reserve Bank in its bulletin notes that these states have accounted for the vast majority of renewable energy projects in recent years.
Table 2: Employment by state
| | |
| --- | --- |
| State or Territory | FTE |
| New South Wales | 7750 |
| Queensland | 6330 |
| Victoria | 6090 |
| South Australia | 2560 |
| Western Australia | 1690 |
| Tasmania | 1560 |
| ACT | 680 |
| Northern Territory | 190 |
Figure 2: Proportion of Annual Direct FTE Employment by Generation Type* 2009-10 to 2018-19
  Source: ABS
*Rooftop solar includes solar hot water systems and small scale batteries; Other includes hydro plus government and non-profit institutions.
RE investment
The RBA's bulletin notes the substantial growth in investment in renewables between 2016 and 2019 that has fostered the jobs growth reported by the ABS. At its peak in 2018 renewable investment represented 5 per cent of all non-mining business investment, pushed along by factors such as government policy incentives like the Federal Renewable Energy Target, higher wholesale prices, declining technology costs and better access to financing for project developers.
Renewable energy investment has supported activity and employment, particularly in regional areas where large-scale renewable generators tend to be located. As noted by the RBA while most components are imported (such as solar panels and wind turbines), local benefits come from a "spillover" to domestic firms, mainly engineering, construction and installation, with this local content making up an estimated 25-40 per cent of total costs. Some manufacturing firms have also reported stronger demand for local produced electricity generation-related equipment[iii].
The renewables market is expected to slow from its record-setting 2019 when 6.3 gigawatts of new large and small-scale capacity was installed, up 24 per cent on the previous record set 12 months earlier[iv].
The moderation in investment in renewable energy generation in the near term will result from some of the recent drivers unwinding (such as the RET, which is discussed further below) and as a result of some of the challenges of integrating an increasing volume of renewable energy capacity into the grid and a lower Australia dollar pushing up costs[v].
Other factors include a fall in wholesale prices and a change in intraday prices as a result of the shifting pattern in energy use. The increase in solar capacity – both large-scale and rooftop PV – has seen a shift in daytime demand resulting in daytime prices declining relative to morning and evening peaks (we have previously written about the increased number of periods with negative pricing – Negative price records set).
One outcome of the shift in demand was unveiled this week with what has been described as a first-of-its-kind electricity supply contract between Snowy Hydro and a large energy user to cover "super peak" periods.[vi]  The contract will cover the high demand hours during morning, afternoon and evening peaks.
The Federal RET has been met and large-scale certificates, which were worth $80 two years ago, have declined to around $15/MWh in 2022 and could decline further as more renewable capacity enters the system[vii].
The RBA notes that the capacity of new large-scale renewable projects that reached financial close last year fell by around half compared with 2018 (figure 3). But the decline in investment activity in 2020 is not expected to be as sharp as implied by the fall in committed capacity, partly because delays have pushed out the construction timelines of a number of projects[viii].
About 2GW of large-scale renewables are under construction right now, but a new factor is the uncertainty created by the COVID-19 pandemic, which is likely to have impacts on energy demand for years to come (see also NEM demand in the time of COVID-19).
Figure 3: Large-scale Renewable Energy Capacity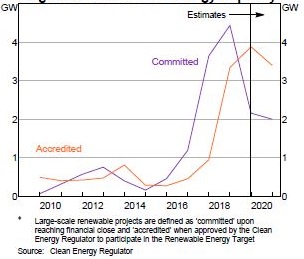 The RBA's longer-term expectation for renewable investment, however, is for continued growth driven by key factors such as the retirement of the National Electricity Market's coal-fired power stations and the continued decarbonisation of the economy overall. 2.2 GW of new large-scale
---
[i] "Renewables trapped in the oil wreck", Australian Financial Review, 16 April 2020
[ii] Government and NPI employees are recorded separately from the other categories of renewable energy, since these employees are typically engaged in activities that cut across various types of renewable energy. For example, an employee of the Clean Energy Regulator who carries out tasks related to the administration of Australia's renewable energy target is principally motivated by the delivery of a market infrastructure to promote all types of renewable energy. Since Australia's renewable energy target promotes a range of renewable energy types, it is not appropriate to assign employees of an entity such as the Clean Energy Regulator to a specific type of renewable energy. Instead, they are assigned to a separate category 'Government and NPIs'
[iii] Renewable Energy Investment in Australia, Reserve Bank of Australia Bulletin, 19 March 2020, page 37
[iv] Record new renewable capacity in 2019, Federal Energy Minister Media Release, 23 January 2020
[v] "Renewables trapped in the oil wreck", Australian Financial Review, 16 April 2020
[vi] Snowy "super peak"deal set to shine, Australian Financial Review, 14 April 2020
[vii]Renewable Energy Investment in Australia, Reserve Bank of Australia Bulletin, 19 March 2020, page 42
[viii] Ibid
Related Analysis
The Australian Energy Council has analysed the nation's top suburbs for solar installations for the first quarter of 2021. And with 20 years of data collected by the Clean Energy Regulator, we also take a look at how the data compares to historical uptake.
Australia is grappling with the rapid change in how and when electricity is generated and consumed. In Western Australia, recent changes to the Electricity Networks Access Code allow expansion of the role of the network operator. Oakley Greenwood has considered what the amendments mean for competition in the Wholesale Electricity Market.
Disruption is one of the cornerstones of the success of Fortescue Metals Group. FMG's ability to get things done in the face of seemingly insurmountable barriers can be illustrated no more vividly than when BHP and Rio Tinto sought to prevent the then start up iron ore miner from accessing its rail lines in the Pilbara. FMG built its own and outdid its rivals by extending those lines to Perth. Now FMG wants to apply the same zeal to energy and green steel.