A new report by the International Energy Agency (IEA) states that energy efficiency is the "cornerstone" to building a sustainable energy system and finds that efficiency gains alone could allow the world to extract twice as much economic value from the energy it uses – and doing so would reduce consumer energy bills by more than $500 billion dollars per year, lower energy imports, and cut air pollution.
The IEA's Energy Efficiency 2018 report examines the opportunities for improving global energy efficiency from 2018 to 2040, across transport, buildings, industry and investment.
The IEA uses its Efficient World Strategy (EWS) which attempts to identify where efficiency opportunities exist. It sets out a vision for 2040 with 60 per cent more building space, 20 per cent more people, and double global GDP, while only using slightly more energy than today and cutting greenhouse gas emissions by 12 per cent.
The scenario assumes the adoption of all cost-effective energy efficiency opportunities between now and 2040, based on technologies that are already available today. It aims to offer a blueprint to Governments to improve their economies and lower their emissions, despite a doubling of the global economy.
IEA key actions
The IEA states to achieve the EWS vision, a global effort to rollout energy efficiency policies is needed, and that this action alone could see greenhouse gas emissions peak before 2020 and then fall, even as the global economy doubles in size between now and 2040.
IEA's analysis identifies key opportunities and actions that could deliver the most positive impact, such as improving the efficiency of buildings and industry, incentives to support the uptake of efficient vehicles, and building momentum in financing (Figure 1).
Figure 1: Summary of key components of the IEA's Efficient World Strategy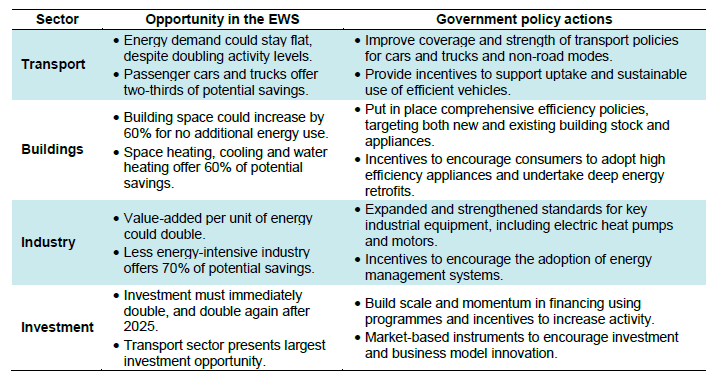 Source: International Energy Agency, Energy Efficiency Report 2018
The analysis states that building codes and appliance standards have been a key policy measure in preventing additional building energy use. While energy use in the buildings sector continues to increase, without energy efficiency improvements since 2000, consumption would have been 12 per cent higher in 2017.
The IEA has previously pointed to air conditioners - which it describes as "one of the most critical blind spots in today's energy debate" (previously covered here) - as a key priority in energy efficiency gains. And again states that air conditioners could double in energy efficiency if supported by the right policies.
"While various countries are endowed with different energy resources – whether it's oil, gas, wind, solar or hydropower – every single country has energy efficiency potential," said Dr Fatih Birol, the IEA's Executive Director.
"Efficiency can enable economic growth, reduce emissions and improve energy security. Our study shows that the right efficiency policies could alone enable the world to achieve more than 40 per cent of the emissions cuts needed to reach its climate goals without requiring new technology. Thanks to the critical importance of energy efficiency in building a secure and sustainable future, the IEA considers it the 'first fuel' and facilitates the exchange of best practices among advanced and emerging economies."
However recent trends show that efficiency policy efforts have slowed in recent years, which the IEA believes has contributed to the rise in energy demand growth (1.9 per cent) in 2017 (Figure 2). It states that Government policy is fundamental to unlocking the potential of the EWS: In 2017, 34 per cent of global energy use was covered by mandatory energy efficiency policies, but the implementation of new policies has decreased for a second consecutive year. Today's rate of implementing energy efficiency policies will not be adequate to reach the EWS's benefits, and instead would require an increase in mandatory energy efficiency policies.
"This weakening of efficiency progress is concerning at a time when global energy demand is growing, especially as the new IEA analysis shows just how much potential gains remain …  The IEA is working actively with Governments across the world to enact the right policies for enhancing energy efficiency," said Dr Birol.
Figure 2:  Change in global primary energy demand 2011-17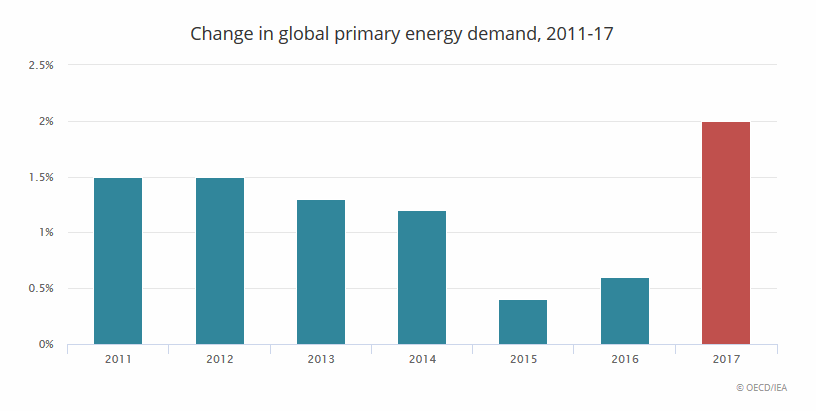 Source: International Energy Agency, 2018
The IEA also notes that the uptake of energy efficient technologies in the EWS requires average annual investment to double between now and 2025, and then needs to double again after 2025 - however current global investment in energy efficiency is not on track to achieve the investment required in the EWS. This message echoes the IEA's earlier World Energy Investment 2018 report, which shows that 2017 saw a pause in investments in renewables and energy efficiency - sparking the IEA to warn that the world is not spending enough on the energy transition (more here).
How does Australia rate?
Earlier this year the American Council for an Energy Efficient Economy (ACEEE) released its 2018 Scorecard that looks at how the world's top 25 energy consuming countries rank across 36 policy and performance metrics over the categories of buildings, industry, transportation, and energy efficiency measures. Each category is awarded a maximum of 25 points.
While no country reached the perfect 100/100 score (Figure 3), the ACEEE states that this shows that all countries have opportunities to save more energy. Italy and Germany tied for first place for the highest overall efficiency with 75.5 points. France took out top spot for the transportation category, while Japan was scored first for industry. Building and national efforts were awarded to Spain and Germany, respectively.
Figure 3: Overall country rankings by category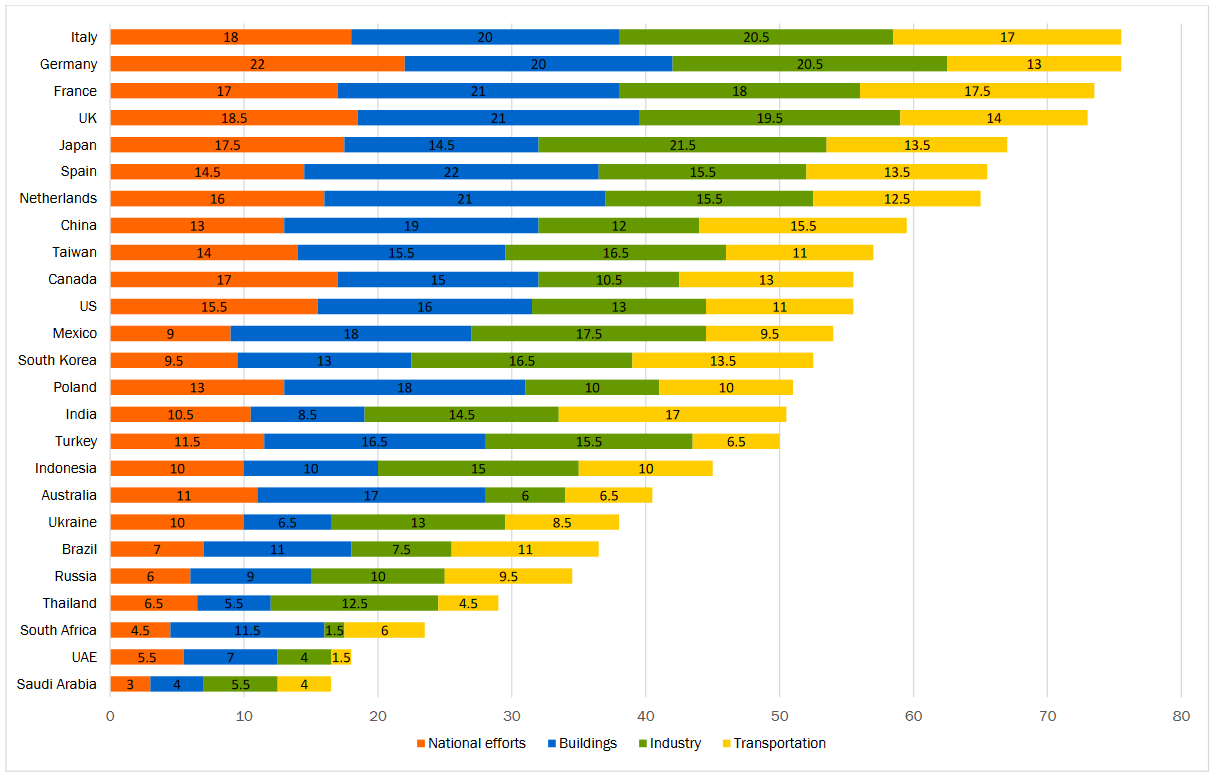 Source: American Council for an Energy Efficient Economy, International Energy Efficiency Scorecard
The average score for the 2018 report was only halfway, on 50.5 points. Brazil, Thailand, South Africa and the United Arab Emirates were amongst the lowest scoring countries, historically they have all had little focus on energy efficiency measures. 
Australia ranked 18th out of the 25 countries, with 39.5 points (In the 2014 version of the report Australia ranked tenth on 49 points, and in 2016 dropped to 16th place with 41 points).
According to the 2018 report (Figure 4):
National efforts: Scored ten points and ranked 15th place. The ACEEE notes COAG Energy Council's aim to increase energy productivity 40 per cent by 2030 through the National Energy Productivity Plan (more below). However it also states that the implementation of the Plan's strategies has been limited since it was drafted in 2015.
Buildings: Australia was strongest in building energy efficiency (10th place) due to building codes, commercial building labelling program, and appliance and equipment labelling. The ACEEE says that Australia's strategy to reduce greenhouse gas emissions has included mandatory minimum energy performance requirements for new buildings, which includes a wide-ranging set of technical elements.
Industry: Australia ranked 22nd with 6 points, the report notes that the Federal Government has no agreements with the manufacturing sector to improve energy efficiency, nor does it require industrial facilities to conduct regular energy audits.
Transportation: Australia ranked 20th with 6.5 points, and is the only developed economy assessed that does not have fuel economy standards in place for passenger vehicles. The ACEEE also states that Australia lacks standards for heavy-duty trucks, has a low percentage of public transit use and invests only about 26 cents in rail facilities for every dollar spent on road construction and maintenance.
Figure 4: Australia scorecard summary


Source: American Council for an Energy Efficient Economy, 2018 International Energy Efficiency Scorecard
However the report does not factor the impact of Australia's state and territory-based schemes - like Victorian Energy Efficiency Target and South Australia's Residential Energy Efficiency Scheme - but instead looks at the performance of national initiatives.
As noted by the ACEEE, Australia's overarching national framework is the National Energy Productivity Plan (NEPP), which seeks to reduce costs for household and business energy consumers across both energy efficiency and energy markets.
The NEPP's 2017 Annual Report states that 2015-16 saw a "slowdown" in Australia's improvement in energy productivity but the nation still remains on path to reach a 40 per cent improvement to Australia's energy productivity by 2030.
The Annual Report also says that in 2016–17 the Clean Energy Finance Corporation (CEFC) financed $995.5 million for projects in energy efficiency in property, infrastructure, manufacturing, agriculture and universities. The Commercial Building Disclosure program was also expanded to cover an additional 1,000 commercial office buildings. The Australian Building Codes Board has progressed work to review the National Construction Code to increase energy efficiency in commercial buildings. And in 2017–18 the COAG Energy Council committed $1.46 million to improve commercial and residential buildings - amongst other projects.
The IEA's report also mentions Australia's CEFC investment, stating that in the first quarter of 2018, energy efficiency was the largest sector for new green bank investment as a result of investment made by the CEFC. It also says that the evolution of existing policies are providing lessons for continuous improvement and references Australia's further strengthening of minimum energy performance standards for refrigerators, which was first implemented in 1999 and upgraded in 2005. The IEA also believes that the digital revolution offers promise, stating that Governments are beginning to introduce policy measures to encourage readiness for demand response, such as demand response capability label for air conditioners in Australia.
According to the Department of the Environment and Energy's Australian Energy Update 2018, the Australian economy has moved towards lower energy intensity and higher energy productivity over time (Figure 5). It states that this reflects cumulative improvements in energy efficiency as well as a shift away from highly energy-intensive industries such as manufacturing, towards less energy-intensive industries such as services. Increased use of renewable energy instead of fossil fuels for electricity generation has also had a positive impact on Australia's energy productivity.
Figure 5: Australian energy intensity and energy productivity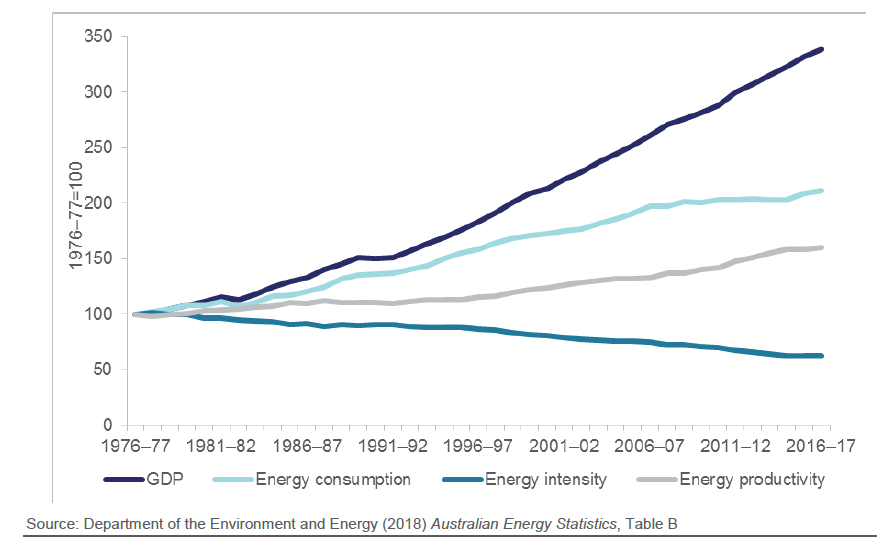 Source: Department of the Environment and Energy, 2018
However while national schemes have encouraged building improvements and the labelling of household items, more could be done. Despite the NEPP, a national approach to energy efficiency is relatively new in Australia.
And with energy affordability a key political issue for Australian governments, access to energy efficiency is an important contributing factor to many households. As covered in a previous EnergyInsider social services organisations like ACOSS have called for reforms to better assist renters access energy efficient homes. Tenants unions and environmental groups have also called for minimum energy efficiency standards in low income and rental houses.
As both the IEA and ACEEE reports point out, energy efficiency is often the least expensive way to meet new demand from energy - yet it remains underutilized globally despite its proven benefits.
Related Analysis
Australia is grappling with the rapid change in how and when electricity is generated and consumed. In Western Australia, recent changes to the Electricity Networks Access Code allow expansion of the role of the network operator. Oakley Greenwood has considered what the amendments mean for competition in the Wholesale Electricity Market.
In February Texas endured a winter storm that dragged temperatures well below freezing. Electricity generation plant and gas infrastructure proved unprepared for these temperatures and around a third of the state's effective capacity went offline for some or all of this period, just as demand was spiking to a new winter record.
The economics of traditional plants are well understood, but since their construction, the way they need to operate has changed substantially. This has been driven by a combination of the age of the plants as well as the large influx of renewables, which is changing the supply and demand patterns of the grid.