Last year saw the global electric car fleet surpass 5.1 million, up 2 million from 2017, according to the International Energy Agency's (IEA) 2019 Global EV Outlook: Scaling up the transition to electric mobility.
The annual report states that electric mobility is rapidly growing with the number of new electric car sales almost doubling from 2017. The IEA points to policies playing "a critical role" in this growth, through mechanisms like fuel economy standards with incentives for zero and low-emissions vehicles, as well as support for charging infrastructure and battery development. Advances in technology are also helping to drop electric car costs – with developments in batteries and the expansion of production capacity in manufacturing plants - and this cost-decline is projected to continue.
Global growth
The world's EV fleet consumed around 58 TWh of electricity in 2018, according to the report, with China accounting for around 80 per cent of world electricity demand for EVs.
With just under half of the world's electric cars, China continues to have the world's largest electric car market with almost 1.1 million sold in 2018. Europe followed with 1.2 million electric cars and the United States with 1.1 million by the end of 2018.
Figure 1: Global electric car sales and market share, 2013-18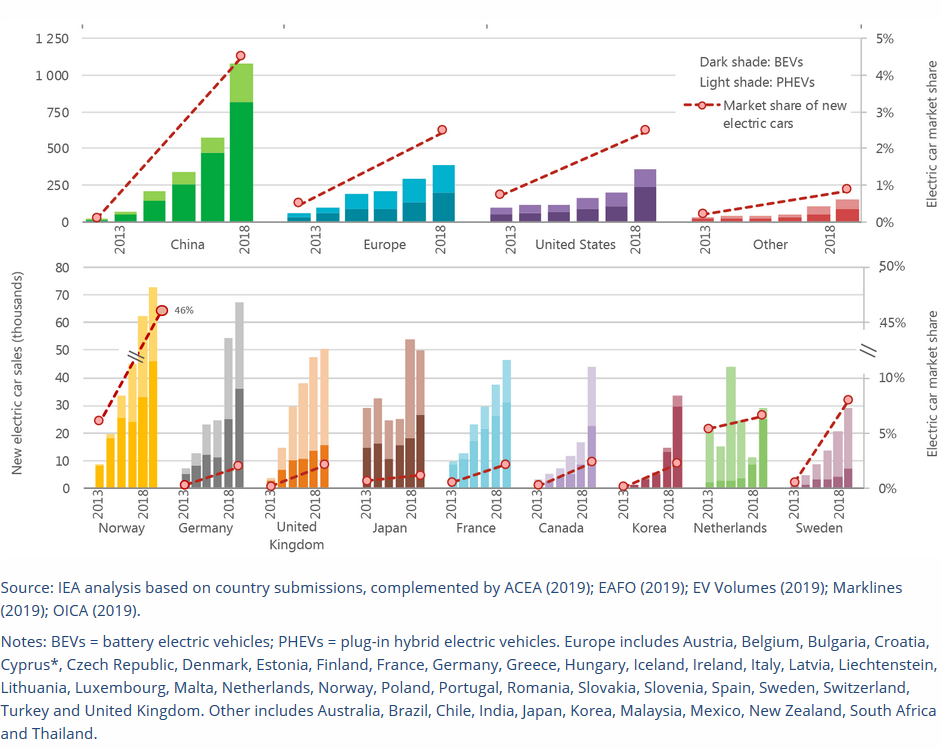 In terms of market share, Norway remains the global leader at 46 per cent of new electric car sales in 2018, followed by Iceland at 17 per cent Sweden at 8 per cent. With an increase across all modes of electric transportation, key global developments cited by the IEA during 2018 include:
Electric two/three-wheelers exceeded 300 million led by the Chinese two-wheeler market, which is hundreds of times larger than any other country (Two-wheelers represented 55 per cent of the globe's EV energy demand).
Electric buses continued to develop with more than 460,000 vehicles around the world, almost 100,000 more than in 2017.
Low-speed electric vehicles (LSEVs) rose almost 700,000 units from 2017, to reach 5 million. All LSEVs were located in China.
In freight transport, electric vehicles (EVs) mostly deployed as light-commercial vehicles (LCVs), reached 250,000 units in 2018, up 80,000 from 2017. Medium truck sales were in the range of 1,000-2,000 in 2018, mostly concentrated in China.
In 2018 there were 5.2 million light-duty vehicle (LDV) chargers, (540,000 publicly accessible), and an additional 157,000 fast chargers for buses. By the end of 2018 there were around 300,000 fast chargers installed globally.
This increase in electric transportation on the world's roads has also seen a projected decrease in CO2 equivalent-emissions. EVs globally emitted around 38 Mt CO2-eq during 2018, compared to 78 Mt CO2-eq that an equivalent internal combustion engine fleet would have emitted during the same timeframe.
Looking to 2030
The report estimates the development of electric mobility through to 2030, via two scenarios: the New Policies Scenario, which takes into account known announced policy ambitions; and the EV30@30 Scenario, which looks at the Electric Vehicle Initiative's more ambitious EV30@30 Campaign to reach a 30 per cent market share for all EVs except two-wheelers, by 2030.
Figure 2: Future global EV stock and sales by scenario, 2018-30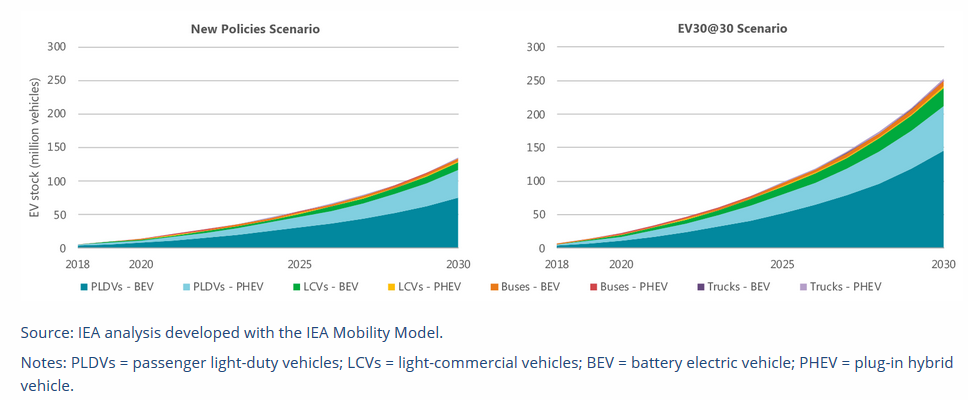 Under the New Policies Scenario, by 2030:
Global EV sales reach 23 million and total stock exceeds 130 million vehicles (excluding two/three-wheelers).
China continues to led the world across the projection period with a 57 per cent share of the EV market in 2030 (28 per cent excluding two/three-wheelers), followed by Europe (26 per cent) and Japan (21 per cent). Canada experiences strong growth in EV market share reaching 29 per cent by 2030. While California and some US states have adopted zero-emissions vehicle mandates, other parts of the US have been slower to adopt EVs, bringing the US's EV sales share to 8 per cent of the US vehicle market in 2030.
Greenhouse gas emissions of the EV fleet reaches almost 230 Mt CO2-eq in 2030, offsetting about 220 Mt CO2-eq emissions (450 Mt CO2-eq if the equivalent vehicle fleet was powered by ICE) (figure 3).
Electricity demand experiences significant growth to almost 640 TWh (figure 4), due to the increased uptake of EVs.
Under the EV30@30 Scenario, by 2030:
EV sales reach 43 million and global stock reaches over 250 million.
EVs account for 70 per cent of all vehicle sales in China (42 per cent excluding two/three-wheelers). Almost half of all vehicles sold in Europe are EVs, followed by 37 per cent in Japan, over 30 per cent in Canada and the United States, and 29 per cent in India.
EV fleet emits around 230 Mt CO2-eq in 2030, while an equivalent ICE fleet would emit around 770 Mt CO2-eq (figure 3).
Electricity demand to substantially increase to 1,110 TWh, due to the larger volume of the global EV fleet (figure 4).
Figure 3: Net and avoided GHG emissions from EVs by mode and total GHG emissions from the transport sector, 2018-30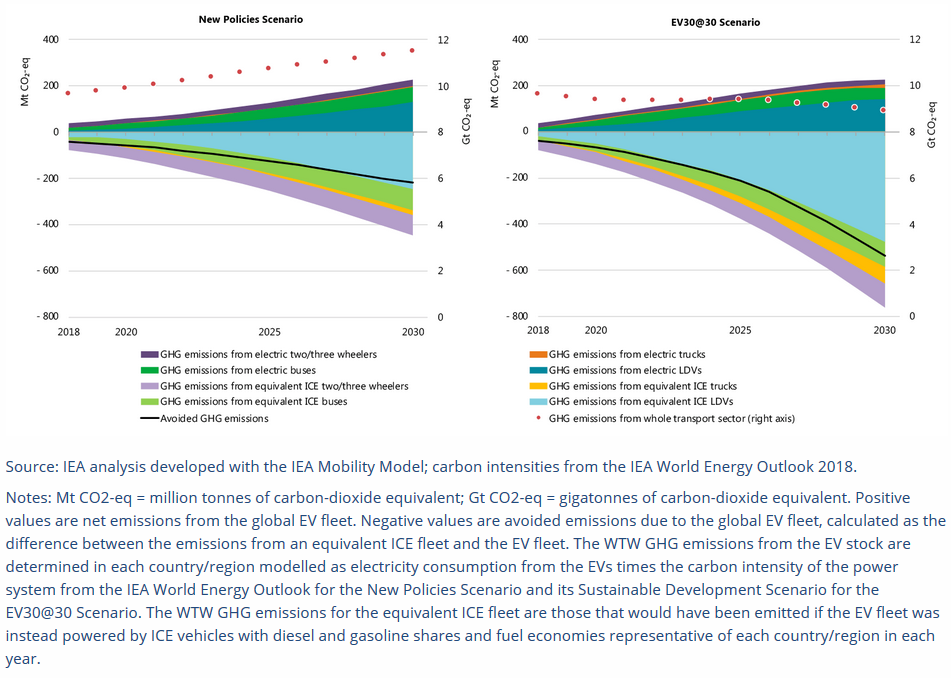 Figure 4: EV electricity demand by region, mode, charger and scenario, 2018 and 2030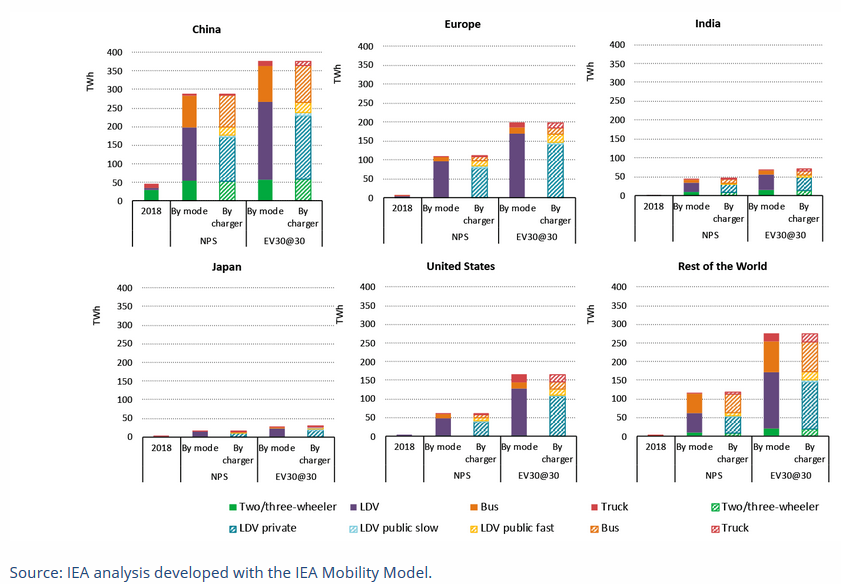 In 2030, electricity demand is centred around China and Europe in the New Policies Scenario, but this moves to be more extensive across the world in the EV30@30 Scenario. Across both scenarios, slow chargers, which can provide flexibility services to power systems, are estimated represent over 60 per cent of the total electricity consumed globally to charge EVs. According to the report, controlled charging is well suited to contribute to increased flexibility in power systems, with features including:
Minimised impacts on load profiles of power systems by managing their charging patterns to coincide with low demand periods.
Potential to provide ultra-short-term demand response to a power system when required (e.g. frequency control), leverage the properties of EV batteries to allow very fast and precise response to control signals, as well as the ability to shift demand across time period; and,
EV batteries can store energy that may be used for other purposes than powering the vehicle.
Cautious optimism
While the report says that "dynamic developments underpin a positive outlook for the increased deployment of electric vehicles and charging infrastructure," the IEA still raises some notes of caution. Such as, ensuring a policy environment that encourages EV uptake and reduces investment risks is in place, as well as increasing policy support for the development of a battery industry value chain.
It says that the private sector is responding proactively to the EV-related policy signals and technology developments. However, the emissions savings due to EVs on the world's roads will also be dependent on the emissions saved across the entire value chain, there will have to be close co-operation between EV manufacturers and fleet operators who are still transitioning and managing the change to a new electric car market.
There will also be an "increased larger demand" for raw and new materials in the automotive sector that will need to be sustainably managed – namely cobalt, which has been previously covered in EnergyInsider here.
The management - reduce, reuse, recycle - of batteries as they retire from their EV performance-life also needs to be addressed (also covered in last week's EnergyInsider). The report notes that this management should maximise the recovery of materials at battery end-of-life treatment while minimising costs. This practice could also reduce the need for raw materials and limit risks of shortages.
Related Analysis
They say everything's bigger in Texas. The major power outages from which it is just emerging, were triggered by a polar vortex and impacted around 4.5 million customers. There's been plenty of finger pointing with intermittent renewables being blamed, questions raised about Texas's go-it-alone attitude and claims of poor preparations stemming from a deregulated energy market.
The fourth quarter of 2020 saw the NEM reach lowest average demand since Q4 2001 – with SA and Victoria's spot prices hitting record lows. Are customers benefiting from the price suppression effects of renewable energy generation? Or is the market telling us a different story?
The way 2021 has started, you could be forgiven for thinking it is the year of the big battery. Plans for the "world's largest battery" were unveiled for the Hunter Valley, while Meridian Energy announced a battery energy storage system to be co-located with the Hume Hydro Power Station. These are just the latest in a series of big battery project announcements.