The latest in a series of surveys on the experience of consumers during the COVID-19 pandemic has provided a snapshot of the performance of retailers, as well as the level of concern among consumers about managing their power bills.
The surveys, which collected data in June, August and October, were the result of Victoria's Essential Services Commission engaging the Consumer Policy Research Centre (CPRC) to monitor consumer sentiment in 2020 during the coronavirus pandemic and highlights improving experiences for Victorian energy users.  
Along with general sentiment, the surveys (conducted by Roy Morgan) asked Victorian customers about their experiences when dealing with their retailer, as well as their own actions and level of engagement, such as in seeking out better deals.
Overall satisfaction
In terms of overall satisfaction with their energy provider 62 per cent of respondents said they were "satisfied" with only 4 per cent "dissatisfied". A full breakdown is shown in figure 1.
29 per cent said they "very satisfied" and 33 per cent "satisfied" (4 out of 5);
another 16 per cent of respondents gave a neutral response (3 out of 5);
a further 17 per cent of consumers didn't offer a view; and,
of total respondents, only 2 per cent were "very unsatisfied" while another 2 per cent gave a low score (2 out of 5).
Figure 1: Satisfaction with energy provider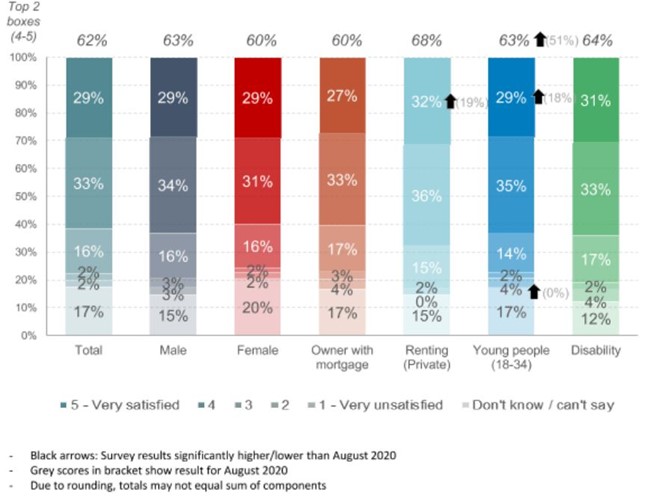 Source: Victorian Energy Insights, CPRC
Retailer satisfaction showed significant improvement from those in private rental properties, with 83 per cent of these respondents either very satisfied or neutral:
32 per cent were "very satisfied" (compared to 19 per cent in the August survey);
another 36 per cent rated their retailer highly (4 out of 5); and,
15 per cent gave a neutral rating (3 out of 5).
There was also noticeable improvement in the ratings from younger Australians (aged 18 to 34 years) with 29 per cent "very satisfied" and a further 35 per cent giving their provider a high score (4 out of 5), while 14 per cent are considered "neutral".
Reliability, competency and honesty
When considering their retailer, around three quarters of consumers gave high ratings for reliability, a further 14 per cent were neutral, while only 4 per cent gave a low score (1-4 out of 10) on this measure.
Two-thirds of respondents rated their provider highly on competency, a further 18 per cent were neutral, and 6 per cent gave a low score.
While on the measure of honesty, 55 per cent rated their provider highly, a further 19 per cent were neutral while only 7 per cent gave a low score. 19 per cent didn't provide a view.
Service improvements
In considering how they felt energy providers could improve their services, customers' top responses were:
better customer service;
investment in clean energy;
making bills easier to understand; and,
being offered the best deal available.
On this last point, customers felt providers should be more proactive in offering a better deal, discount or concession, and that the onus should not be on the consumer.
However, while many consumers want to be on the best plan by default, Victorian retailers already alert customers if they are not on their best deal. The consumer's informed consent is also required before they can be moved to a different plan.
Ability to pay
The level of customers concerned about their ability to pay their energy bill was 29 per cent (with 6 per cent of respondents saying they are very concerned)[i].  
Across the three survey periods, there has been a steady increase in the overall number of customers concerned about their ability to pay: 21 per cent in the June survey were concerned, and 26 per cent in August. With the reduction in government support payments from 1 April, it is expected that this number will continue to rise.
Figure 2: Concern about ability to pay
Source: Victorian Energy Insights, CPRC
There has also been a progressive rise over the three surveys in the percentage of consumers who have contacted their providers (11 per cent in June, 16 per cent in August and 18 per cent in this latest survey), showing a positive trend.
Importantly, when a consumer did contact their retailer, 95 per cent of respondents indicated their provider took action to help. The Australian Energy Council continues to encourage consumers to reach out to their retailer to seek help if they need it, and these results illustrate the genuine support that can be obtained.
The most common steps taken was to offer a better plan that suited the customer's needs (24 per cent) and to see if the customer had a concession so a discount could be applied (22 per cent).
Other steps taken by their retailer included offering a discount or waiving some costs (which increased by 5 per cent to 19 per cent between August and October), offering a payment plan, giving the consumer information and support to apply for government relief grants, and referring consumers to a financial counsellor (see figure 3).
Figure 3: Actions taken by provider following customer contact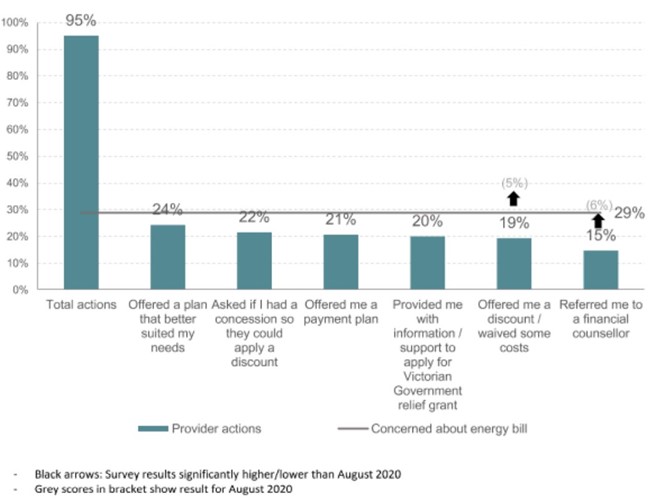 Source: Victorian Energy Insights, CPRC
Ability to pay is the most prominent consumer concern amongst private renters at 46 per cent (figure 2). While nearly a third reported they were concerned, 82 per cent hadn't contacted their energy provider in the previous four weeks and three quarters of these consumers didn't consider contacting their provider.
While the comment that they "had not considered it" was the overwhelming reason for no contact, other reasons also highlighted in the survey include: not thinking it was worth the effort, having other priorities, trying to reduce their energy use instead, and not being confident their provider would assist (3 per cent).
This section of the community represents an opportunity for industry and regulators to develop renter specific communications materials and channels.
Finding a better deal
There has been an increase in the number of Victorians finding a better deal in the past three months with 27 per cent seeking out a deal (see figures 4 and 5) up from 22 per cent in the previous survey (August).
This continues a positive trend across the three surveys, showing a gradual increase in consumers engaging the market (17 per cent tried to find a better deal in the June survey). A break down by consumer sub-groups is shown below.
Figure 4:  Finding a better deal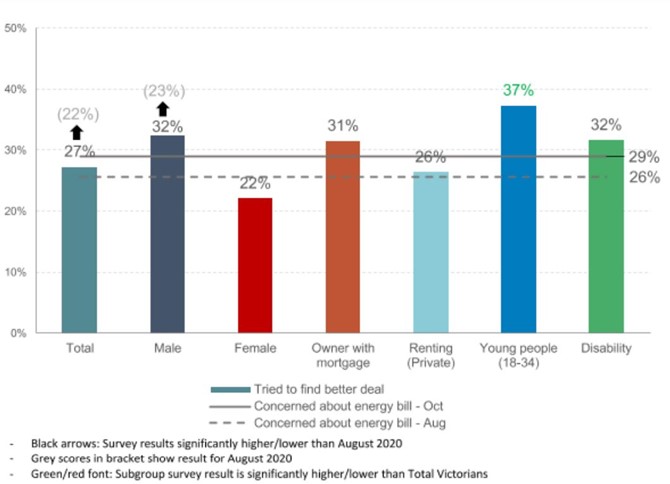 Source: Victorian Energy Insights, CPRC
The outcome of efforts to find a better deal are reflected in figure 5.
Figure 5: Actions to find a better deal overall and for those concerned about energy bill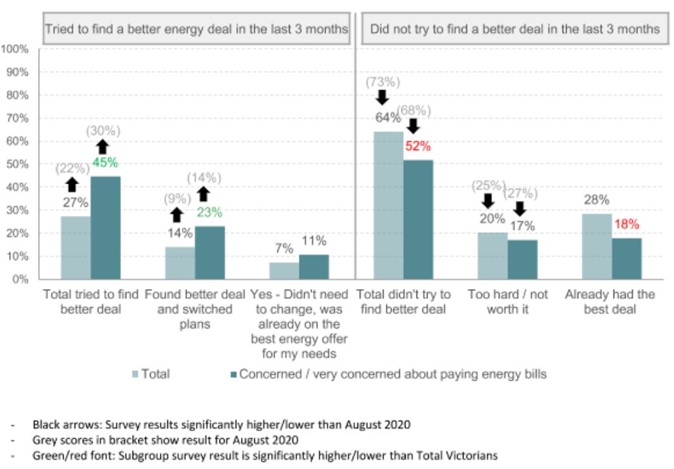 Source: Victorian Energy Insights, CPRC
Importantly, 45 per cent of people "concerned" or "very concerned" about their ability to pay, looked for a better deal (up from 30 per cent), although 52 per cent said they didn't try to find a better deal.
Further results showed:
Of those who sought out a better deal, 14 per cent (compared to 9 per cent in the previous survey) did find one and switched.
In the case of customers worried about their ability to pay their bills, nearly a quarter found an improved deal and switched (23 per cent), an increase on the previous survey.
Overall, 28 per cent of people were already on the best deal compared to just 18 per cent of those concerned/very concerned. Suggesting there is further scope for people in that category to benefit from better deals. The challenge, as always, is to find ways to encourage them to seek out deals that are available.
Interestingly the survey highlights that of the 27 per cent of respondents who said they'd gone out to the market, only around 32 per cent had used the independent Victorian Energy Compare website:
The most common way to look for a deal was through an energy providers website (33 per cent of respondents, up 4 per cent on the previous survey)
28 per cent had used commercial price comparison websites
26 per cent had used a general internet search
Promisingly there was a substantial increase in consumers who said they found it easy to compare energy plans – up by 11 per cent from August at 59 per cent. Of those, a third found comparing plans "very easy", a big jump on the August survey (18 per cent). And of energy users who actually switched plans or providers, 60 per cent found this easy – another big jump from August (41 per cent). Overall, only 2 per cent of Victorians found switching energy providers or plans "very difficult".
This highlights that better deals are readily available and that more people are going out to find a better offer, although because it remains a relatively small group, there is a need to continue to alert consumers to market offers. It is unclear yet what impact the imposition of regulated pricing in Victoria via the state's default offer may have on the incentive to look around.
COVID-19 concern
The latest survey indicates 64 per cent of Victorians continue to be concerned about the COVID pandemic's potential to impact their financial wellbeing (consistent with the August results, but 5 per cent lower than in September).
It underscores that while there is substantial communication and efforts to encourage consumer engagement from retailers, as well as various regulators and government, it remains important to maintain these.
While there is this ongoing anxiety about potential for financial fallout from COVID-19, expectations on energy prices have actually improved markedly, with only 27 per cent of those surveyed expecting to spend more on electricity in the three months from October, which is substantially lower than reported in August (41 per cent).
---
[i] This is based on the 619 Victorians interviewed for the COVID-19 and Consumers: from crisis to recovery, Victorian Energy Insights, October 2020
Related Analysis
There has been growing concern about inflationary pressures, the prospect of higher interest rates and higher fuel costs for the economy generally. But what do these factors mean for electricity prices? We have taken a detailed look at the factors at play and how they are likely to determine and influence our power prices.
The Australian Energy Regulator recently released its Draft Determination of the Default Market Offer for 2022-23, where it intends to switch from the currently used indexation methodology to a cost build-up methodology - a significant move that will influence how the final DMO price is set.
Retail household electricity prices in the National Electricity Market are the lowest they have been for eight years, but how do the prices stack-up internationally? New Australian Energy Council analysis compares the prices against the world's 38 OECD countries.