The number of Australian households on electricity standing offers in competitive parts of the National Electricity Market has now fallen to 18.5 percent, the energy industry said today.
Across the NEM the total number of customers on standing offers is now 27.1 per cent.  The standing offer is the base default offer which retailers are required to provide where the customer has not signed on to a market offer.
The Australian Energy Council's Chief Executive, Matthew Warren, said the data from the Australian Energy Market Commission highlighted that competition had led to a reduction in the number of households on less competitive standing offer contracts.
"In states with fully deregulated markets the increased number of competitors has led to a bigger reduction in the number of households on standing offers.
"Retailers have now committed to working with the Federal Government on a range of new measures to make it easier for consumers to find the best energy deal for them and assist vulnerable customers with their bills."
Mr Warren said the industry was acutely aware of the impact of higher energy costs on consumers which only increased the importance of accessing the best retail energy deal.
"It is clear from the data that deregulation of markets and increased competition has seen more customers take up more competitive market contracts.
"Customers are in the driver's seat.  Like any other competitive market when they engage they save."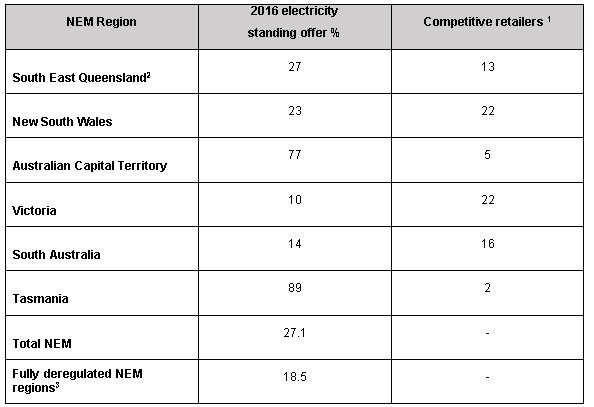 1Only active retailers are include; 2 Regional Queensland has 723,000 customers, with nearly all on regulated offers. 3 NSW, VIC, SEQ, SA.  SOURCE: AEC Analysis of AEMC 2017 Retail Energy Competition Review Data
The Australian Energy Council has also released a Fact Sheet on retail energy bills.
About the Australian Energy Council
The Council represents 21 major electricity and downstream natural gas businesses operating in competitive wholesale and retail energy markets. These businesses collectively generate the overwhelming majority of electricity in Australia and sell gas and electricity to over 10 million homes and businesses.