At more than 14.7 gigawatts (GW) rooftop solar is now the second largest generator by capacity in Australia, according to the latest Australian Energy Council Solar Report.
The AEC's Quarterly Solar Report shows while coal-fired generation has more capacity, rooftop solar is continuing to expand with 109,000 systems installed in the second quarter this year.
"While the 2020/21 financial year was difficult for most industries due to the impact of COVID-19, Australia's rooftop solar PV industry does not appear to have been overly affected, based on this AEC analysis," said AEC Chief Executive Sarah McNamara.
"All jurisdictions, except the Northern Territory, hit records for the number of solar panels installed compared to the previous financial year.
"During the 2020/21 financial year, around 373,000 solar systems were installed on Australian homes, up from 323,500 during 2019/20. Installed capacity also jumped from 2,500MW to more than 3,000MW.
"Continued low technology costs, increased working from home arrangements, and a shift in household spending to home improvements during the COVID-19 pandemic played a key role in the increase of rooftop solar PV systems ," said Ms McNamara.
Solar uptake by state
New South Wales cracked the nation's top five with two postcodes during the 2021 financial year. The biggest growth for New South Wales solar installations was north west of  the Sydney CBD.
Victorian postcodes 3029 (Hoppers Crossing, Tarneit, Truganina) and 3064 (Donnybrook) have held the top ranks for the past two years, these suburbs had an equivalent number of solar systems installed with capacities of approximately 18.9 MW.
Queensland claimed four spots during 2020 but southwest Brisbane's 4300 is the only postcode in the top 10 in 2021, ranking third with nearly 2,400 systems installed and 18.1MW connected to the grid.
Western Australia now has three postcodes in the top 10, each installed around 1800 systems with a capacity of 12MW in FY21.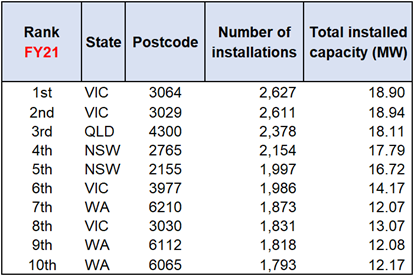 Read the full Solar Report here
---
About the Australian Energy Council
The Council represents 20 major electricity and downstream natural gas businesses operating in the competitive wholesale and retail energy markets. These businesses collectively generate the overwhelming majority of electricity in Australia, sell gas and electricity to over 10 million homes and businesses, and are major investors in renewable energy generation.