Australia's love of solar continues to grow with the latest data showing people are going bigger when to comes to getting rooftop solar.
According to the Australian Energy Council's quarterly Solar Report, the average installed solar system size for residential and small businesses increased from 2.65kW in January 2012 to a peak of 8.86kW in December 2020.
The Australian Energy Council's Chief Executive, Sarah McNamara said "The report tells the story of solar installation across the country and shows the number of new monthly installations are likely to exceed 85,000 for the January to March 2021 quarter. New South Wales continues to lead the states with more than 24,400 new installations and 194MW of total installed solar capacity added in the first quarter of 2021.
"The adoption of battery storage is also growing with almost 1400 units installed in 2021 so far. When comparing the uptake of battery installations with rooftop solar by state South Australia and New South Wales lead, accounting for around 25 and 23 per cent of total installations."
Monthly average system size (kilowatts) from January 2012 - Jan 2021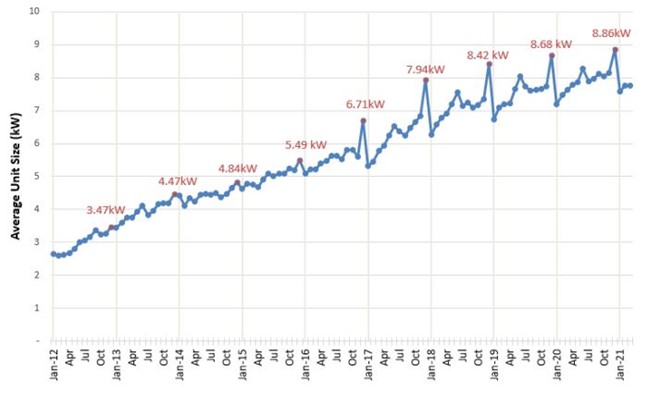 Source: Clean Energy Regulator data, Australian Energy Council analysis, data as of 28 April 2021
Australia's large-scale solar capacity is also on the rise. It increased to a total of 5.4GW across 69 solar farm projects. In the first quarter of 2021, an additional of 450MW of new utility-scale solar capacity connected to the grid from Glenrowan West Sun Farm (132MW), Kiamal Solar Farm (200MW), Yatpool Solar Farm (106MW) in Victoria, and from Robertson Barracks Solar (12.5MW) in the Northern Territory.
The AEC Solar Report also looks at the proposed solar export charges to deal with potential grid "traffic jams" due to the large amount of solar now installed on rooftops. It is something anyone considering a larger rooftop solar system should read before they install.
---
About the Australian Energy Council
The Council represents 21 major electricity and downstream natural gas businesses operating in the competitive wholesale and retail energy markets. These businesses collectively generate the overwhelming majority of electricity in Australia, sell gas and electricity to over 10 million homes and businesses, and are major investors in renewable energy generation.