The Australian Energy Market Commission (AEMC) made its final determination on the Expanding competition in metering and related services[i] rule change in November 2015. The final determination provides the framework for a market-led roll-out of smart meters, and outlines which parties have responsibility for various aspects of metering.
Smart meters are enablers. Customers with a smart meter can receive a range of new tariff options, energy usage data and more detailed billing information. They can also potentially benefit from more direct demand management and back office cost savings.
Retailers are well placed to enable a market-driven delivery of smart metering to customers. Competition amongst retailers to offer services paired to the metering, will help avoid the issues which were seen in the mandated roll-out of smart meters in Victoria.
National and International experiences of market led versus mandated roll-outs
The change in metering competition rules announced by the AEMC means that retailers can essentially roll-out smart meter products in response to consumer demand, without the need for a regulatory or government directive. A market-driven roll-out will, by definition, occur in response to consumers wanting to have their meters upgraded in order to access products that can be better tailored to their lifestyle and energy use. Under the AEMC determination consumers do not have to change their existing meters unless they request to do so, or it needs replacing for technical reasons.
The alternative mandated roll-out, as occurred in Victoria, led to a customer backlash because consumers paid for smart meters prior to seeing any of the benefits of the technology.  In an assessment of the Victorian roll-out, the state's Auditor-General also found that not all the expected benefits had been realised and argued that achieving the benefits, "relies heavily on the majority of consumers changing behaviour, including by finding a better electricity deal and changing consumption patterns". He pointed to the importance of communicating the benefits directly with the customer.
For that reason, the decision about whether or not to have a smart meter, and the type of smart meter, should be made by the customer with retailers competing to offer the best meter/management packages to suit the household[ii].
Market led approaches ensure customer support for smart meters is shaped through the marketing of smart meter services, and the customer's explicit informed consent to a product choice that they see as reflecting benefit to themselves. This was showcased by the successful market led roll-out of smart meters in New Zealand where competition between energy retailers saw more than 1 million smart meters installed in homes and businesses across the country by early 2014.
The New Zealand roll-out highlighted potential cost savings from unaccounted for energy loss, manual meter read, meter leasing, automated disconnection/ reconnection, reduced back office labour, reduced call centre volume from fewer errors and reduced nontechnical losses; which are benefits that can be shared with customers.[iii]
In 2011, Frontier Economics Ltd of London[iv] investigated the economic potential of using smart electricity meters for German households. This study assessed "the overall economic benefit and the respective costs that would be generated by the installation of smart meters in various types of households".
Figure 1 shows a comparison of different smart meter deployment scenarios considered by Frontier Economics. It found that in Germany a forced, or mandatory deployment would deliver negative results, whereas in voluntary or selective deployments smart meters could be economically justified. 
Figure 1: Net benefits of selective and compulsory installation of smart electricity meters[v]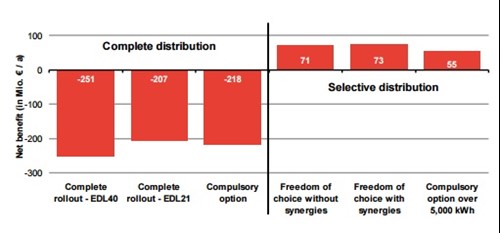 Despite the concerns of a mandated roll-out, most countries in the EU are undergoing a mandated roll-out of smart meters as can be seen in Figure 2. EU Member States are required to ensure the implementation of smart metering under EU energy market legislation in the Third Energy Package with the implementation subject to a long-term cost-benefit analysis (CBA). In cases where the CBA is positive, there is a roll-out target of 80 per cent market penetration for electricity by 2020.
Figure 2: Rollout of smart meters across the EU[vi]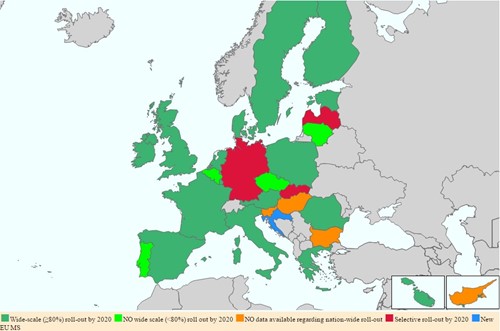 In Germany, Latvia and Slovakia the CBAs for large-scale roll-out by 2020 were negative or inconclusive with smart metering found to be economically justified for a selective roll-out of smart meters. A mandated approach has not shown signs of being successful in other countries with continuing doubt over whether the 80 per cent by 2020 target will be achieved.
A look at the role of retailers in the roll-out of smart meters
Competition and the ability to reduce operational costs and inefficiencies are the key incentives that retailers need to roll-out smart meters to customers, including residential and small business customers. The potential to offer customers additional benefits via smart meters can give a retailer a competitive advantage. With a smart meter, retailers can offer new and existing customers a range of energy information and management services.  
Competition between retailers underpins the incentives that retailers have to roll-out smart meters to their customers and to deliver the range of services and products that customers want. A market driven roll-out also ensures that the meter specifications are based on the smart metering services that customers want and provides the flexibility for retailers to develop new products and services for their customers.
An appropriate regulatory framework is required to support a market driven roll-out. While several potential barriers have been removed as a result of the AEMC's expanding competition in metering and related services rule change, a number of regulatory changes are still in progress, including:
The discontinuation of any legislative barriers, such as jurisdictional safety regulation, that give distributors exclusivity over the metering arrangements for certain customer types; and,
Appropriate ring-fencing arrangements around participants in the market.
Safety
Safety was raised as an issue during the Victorian smart meter roll-out. Some consumers raised health concerns and privacy issues which resulted in the Victorian Government examining in detail the safety of smart meters in 2012.
The Victorian Government Safety Regulator, Energy Safe Victoria (ESV), reported on the safety of Victoria's advanced metering infrastructure (smart meters) to the Victorian Government[vii]. This report found that smart meters are safe and don't pose any greater risk than older electronic or electromechanical meters. In summary, the report found:
There is no evidence to suggest the safety risks associated with smart meters are any greater than older style electronic meters;
The smart meters being installed in Victoria meet current Australian Standards, including those related to safety, and follow Victorian Electricity Supply Industry (VESI) minimum procedures; and,
If a smart meter does fail, it poses no greater risk than if existing metering equipment failed.
Figure 3: Comparing smart meters to other Household Appliances - RF EMR (radiofrequency electromagnetic radiation)[viii]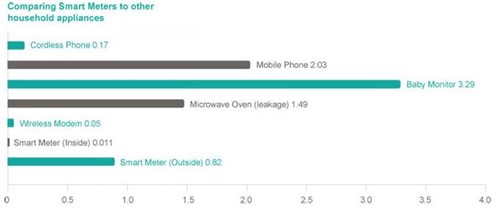 There are currently different regulatory regimes that metering providers need to be competent in to ensure minimum safety standards are maintained.
AEMO undertakes ongoing six monthly audits of Meter Provider requirements where the Meter Provider must submit the names, licenses and training schedule and material to AEMO for review and approval. Certified electricians must undertake training as part of the Meter Provider AEMO accreditation process. This includes jurisdictional safety and compliance training which is then also reviewed and approved by AEMO. 
Anyone who wants to be a meter provider will continue to need to meet AEMO's requirements, along with state-based safety requirements.
---
[ii] http://theconversation.com/smart-meters-dumb-policy-the-victorian-experience-47685
[iii] http://eraa.com.au/wp-content/uploads/ERAA_WP2-Market-Driven-Smart-Meter-Rollout.pdf
[iv] Frontier Economics, 2011, Economic Potential of Smart Electricity Meters in Germany – Analysis Commissioned by Yello Strom GMBH", January 2011
[vii] Energy Safe Victoria, 2012, "Safety of Advanced Metering Infrastructure in Victoria"
Related Analysis
The Australian Energy Council has analysed the nation's top suburbs for solar installations for the first quarter of 2021. And with 20 years of data collected by the Clean Energy Regulator, we also take a look at how the data compares to historical uptake.
Australia is grappling with the rapid change in how and when electricity is generated and consumed. In Western Australia, recent changes to the Electricity Networks Access Code allow expansion of the role of the network operator. Oakley Greenwood has considered what the amendments mean for competition in the Wholesale Electricity Market.
In February Texas endured a winter storm that dragged temperatures well below freezing. Electricity generation plant and gas infrastructure proved unprepared for these temperatures and around a third of the state's effective capacity went offline for some or all of this period, just as demand was spiking to a new winter record.