Last year, the Australian Energy Council engaged Environment Resources Management (ERM) to review the different ways industry calculates and reports its emissions to the National Pollutant Inventory.
This review was sought to provide public transparency on the emissions estimation methods that electricity generators use for their emissions data - data that's often used to inform media and public commentary on the energy sector.
So what can be learned from the report? We take a look below.
Context of the report
The National Pollutant Inventory (NPI) is a public database that provides information on the types and quantities of 93 substances emitted to the environment by industry. More than 4000 facilities across a range of industry sectors report to the NPI, including manufacturers, smelters, dry cleaners, hospitals, and electricity generation. The Department of Agriculture, Water and Environment publishes the NPI data on 31 March each year, with the publication of the 2020/2021 data soon approaching.   
Recently there has been some media attention around the reported emissions of coal and gas generation for six substances: Nitrogen Oxides (NOx), Sulfur Dioxide (SO2), Mercury and Particulates (TSP, PM2.5 and PM10). Even though overall emissions from coal generation are trending downward, some environmental advocacy groups have highlighted the variations in the year-by-year reporting of data at individual generation sites and subsequently challenged the methods used to estimate these emissions. The AEC commissioned ERM, an independent environmental consultant, to provide transparency on how generators calculate their emissions and why these variations occur.
Emissions estimation methods
According to the NPI Guide, there are five emissions estimation techniques an electricity generator can use to calculate its emissions. Listed in order of reliability:
Direct measurement of annual emissions (Continuous Emissions Monitoring System [CEMS] or stack tests)
Source-specific emissions factors derived from sampling events
Engineering calculations
Mass/material balance approach
Published emission factors (e.g. state or industry factors)
In general, the cost of the technique increases with the reliability.
If a generator wishes to use an estimation technique that is not listed above, it requires written approval from the relevant state or territory environment agency. The most reliable available method should be used based on the data , and the NPI Emissions Estimation Technique Manual for electricity generation states that when available, it is preferable to use facility-specific information for emissions estimation rather than default emission factors.
ERM compared Australia's approach to that in the United States and United Kingdom and found there was 'consistency with the NPI methodologies, both in the estimation methods and reporting objectives', indicating that the NPI is in line with international practice.
Figure 1 summarises the cost and reliability of the available emissions estimation methods.  
Figure 1: Available emissions estimation methods and reliability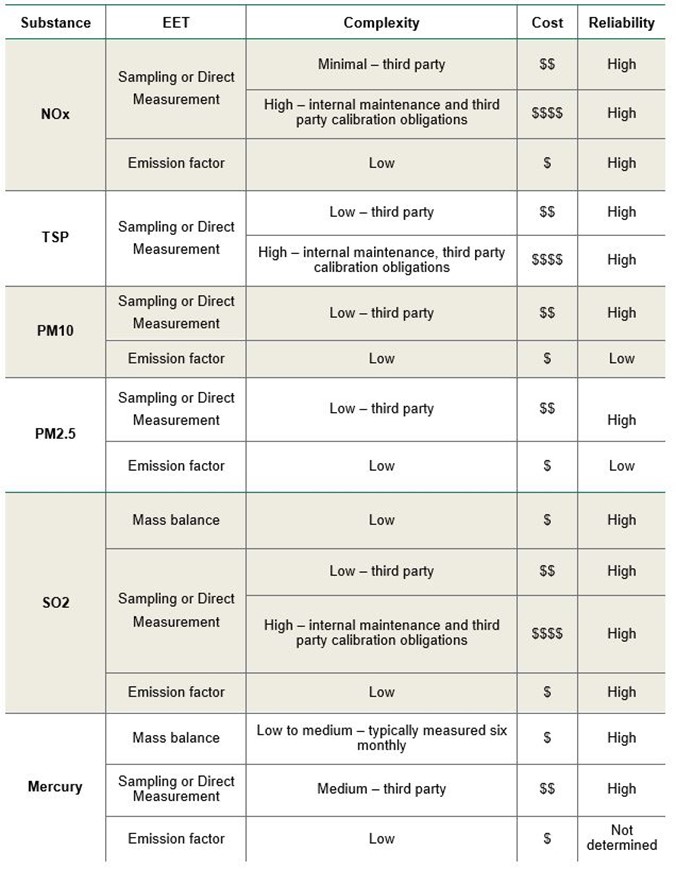 Source: Page 20-21 of ERM report. Table modified for publication.  
Emissions estimation methods used by electricity generators
Figure 2 below provides a summary of the emissions estimation methods that electricity generators use, and there are two immediate observations:
Electricity generators predominantly rely on the two most reliable, and expensive, methods for estimating their emissions: CEMS and stack testing.
The exception to this is mercury, where most generators use emission factors, and SO2, where half of generators use mass balance. ERM explained this was 'understandable' since these emissions are directly dependent on the coal composition.
Figure 2: Summary of NPI emissions estimation method used by electricity generators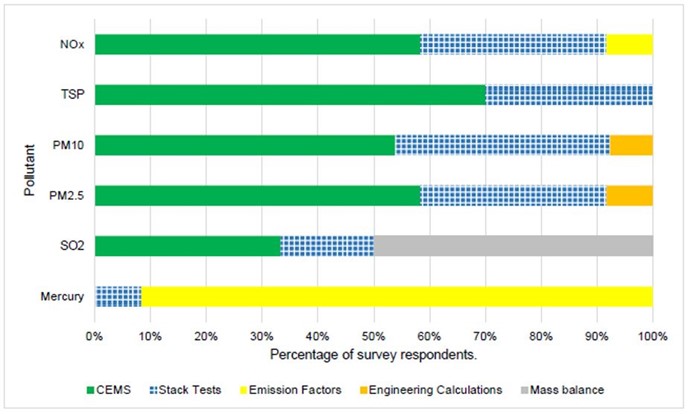 Source: Page 25 of ERM report
A key observation ERM made was that, on average, using the less reliable default emission factors technique resulted in a conservative over-estimation of the pollution. For example, generators would have frequently overestimated their PM10 emissions had they relied on a default factor, as illustrated in the figure below.
Figure 3: Summary of actual black coal measurements versus default emissions factors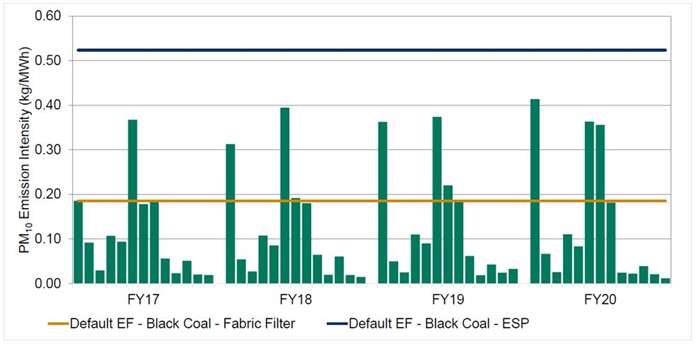 Source: Page 26 of ERM report.
ERM goes on to explain that even the most reliable estimation methods still have some degree of uncertainty, which can lead to variation. This variation is in addition to the true variation caused by the operating conditions of the plant (fuel types, operating load, plant scale, etc.).
What do the regulators think?
ERM were asked to ascertain the views of federal and state environmental regulators on their preferred NPI estimation method to see how it compares to the approach of industry. All regulators except Queensland expressed a preference for direct measurement, which is seen as most reliable, putting it in alignment with what most generators use as well as their international regulatory counterparts.
Queensland stated that it had observed some discrepancies in particulate matter estimates from direct measurement compared to other methods, and for this reason wants additional information before it prefers direct measurement.
Overall, however, ERM summarised the position of Australian NPI regulators towards errors or discrepancies in data as 'generally minor in nature'.
Related Analysis
North Queensland attracts its fair share of debate around electricity. Since around 2009 there has been a push to develop a major transmission line – now CopperString 2.0 (CopperString) – to connect Mt Isa to the National Electricity Market. Discussion around the CopperString proposal has come back into focus recently with submissions to the Queensland Government on electricity supply options for the North-West Minerals Province. Here we take a closer look at the CopperString proposal, the project's background, options moving forward and the costs and benefits.
The latest discussion paper in the Australian Energy Council's series on Australia's Energy Future focuses on the need for zero emissions dispatchable plant to complement the growth of renewable energy and the retirement of existing coal and gas generation. It also considers the types of zero emissions dispatchable power currently available.
The Australian Energy Council is releasing a series of discussion papers examining the challenges and opportunities in decarbonisation of the economy. This paper - Electrification & Heat - considers the potential electrification of heat sources in both the residential and industrial context.