A recent study proposes an interesting take on batteries. Researchers from the Austrian-based International Institute for Applied Systems Analysis have devised a new concept called Mountain Gravity Energy Storage (MGES), a novel take on battery storage that uses mountain gravity.
The study recently published in Energy, and led by researcher Julian Hunt and his colleagues[i], proposes that MGES can fill a gap in storage services particularly for grids up to 20 MW, and provide a solution for seasonal storage where there is no water for pumped-storage solutions.
So what's MGES all about? We take a look here…
Mountain Gravity Energy Storage
The researchers state that MGES could be a feasible option for micro-grids and power systems where electricity costs are high, demand for energy storage is less than 20MW, and there is a need for seasonal storage – like in rural and remote areas.
While renewable sources such as wind and solar have the potential for lowering electricity costs in micro-grids, they state that renewables require a "flexibility solution" due to their intermittent nature, and there is currently no viable technology offering affordable long-term energy storage with a low generation capacity. However according to the paper, mountains could be used to help meet this task, with gravity (and also hydropower) making MGES a possible solution.
Shown in Figure 1, the paper states that this can be achieved by:
Building cranes on the edge of a steep mountain with enough reach to transport sand or gravel from a storage site located at the bottom to a storage site at the top.
A motor or generator moves storage vessels filled with sand from the bottom to the top, similar to a ski lift. During this process, potential energy is stored.
Electricity is generated by lowering sand from the upper storage site back to the bottom.
If there are river streams on the mountain, it can be combined with hydropower, where the water would be used to fill the storage vessels in periods of high availability instead of the sand or gravel.
Figure 1: MGES technology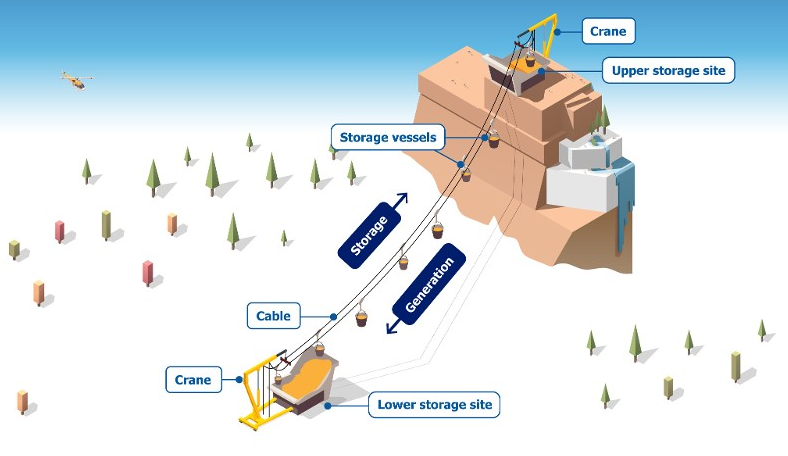 Source: International Institute for Applied Systems Analysis
MGES cost varies from US$50-100/MWh of stored energy and US$1-2 million/MW of installed capacity. The higher the height difference between the lower and upper storage sites, the lower the potential cost of the project.
The paper notes that storage capability of batteries in a yearly cycle may not become economically viable, due to the high cost of stored energy ($/MWh) and a high rate of losses and/or self-discharge per day. Yet it states that pumped-hydro storage technologies can help to resolve this, by storing a large amount of energy in the form of potential energy stored as the mass of water in high elevations.
The paper notes that MGES has the additional benefit that water can be added at any height of the system, increasing the possibility of catching water from different heights which is not currently possible in conventional hydropower.
Figure 2: Mountain Gravitational Energy Storage sketch, showing the upper and lower storage sites and the storage vessels moving up (storing energy) and down (generating electricity).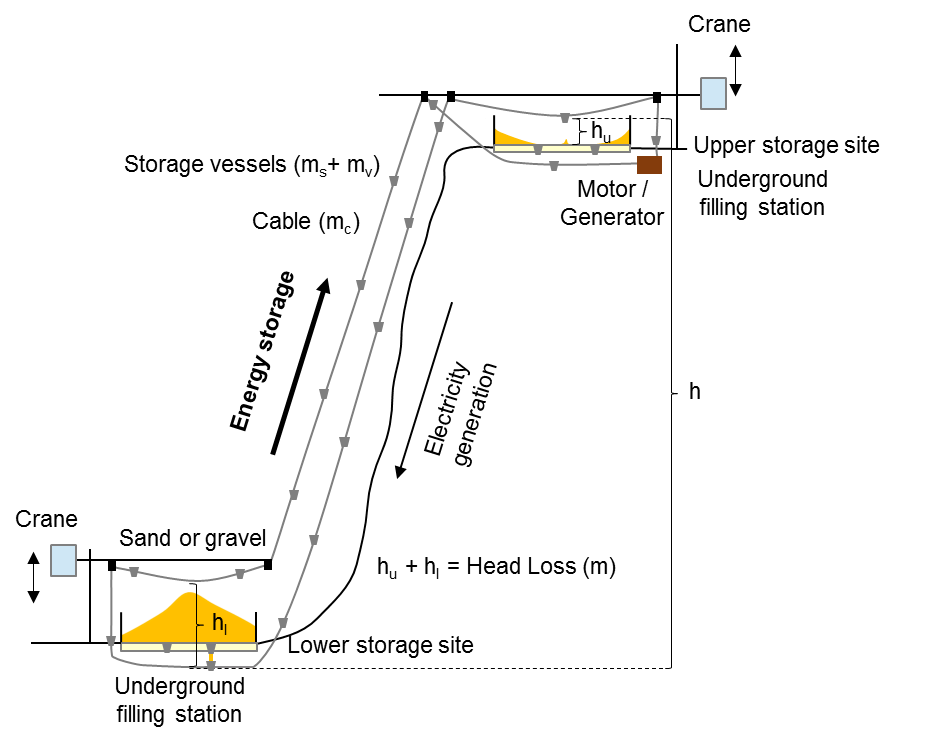 Source: International Institute for Applied Systems Analysis
MGES can continuously store energy for months and then generate power continuously for months (or when there is water available for hydropower). In the Institute's media release, lead researcher, Hunt said[ii]:
"One of the benefits of this system is that sand is cheap and, unlike water, it does not evaporate – so you never lose potential energy and it can be reused innumerable times. This makes it particularly interesting for dry regions."
However Hunt believes that MGES should not be used for peak generation, daily storage cycles or the provision of ancillary services, with these being more suited to batteries (especially with decreasing battery costs). Instead MGES could fill a gap for locations with long-term storage requirements and especially in dry regions.
"It is important to note that the MGES technology does not replace any current energy storage options but rather opens up new ways of storing energy and harnessing untapped hydropower potential in regions with high mountains".
The paper also looks around the world, and at what regions could be viable to have a future energy mix using only wind, solar, batteries, and MGES to supply demand.
"Additionally, pumped-hydro storage plants are limited to a height difference of 1,200 meters, due to very high hydraulic pressures. MGES plants could have height differences of more than 5,000 meters. Regions with high mountains, for example, the Himalayas, Alps, and Rocky Mountains, could therefore become important long-term energy storage hubs. Other interesting locations for MGES are islands, such as Hawaii, Cape Verde, Madeira, and the Pacific Islands with steep mountainous terrain," Hunt said.
What next?
The authors note that their main contribution is to show that gravitational energy storage technologies are interesting for long-term energy storage in systems with small energy storage demand. The technology used for MGES is already being applied in industries such as construction and mining, with the main difference being that the MGES motor also generates electricity when lowering the elevation of the mass.
They note that while the generation cost of MGES is relatively high, it could offer an interesting solution for small islands or mini-grids due to the high cost of electricity supply, seasonal demand variations, and the challenges of incorporating renewable energies.
The researchers state that MGES can serve as a storage solution to balance seasonal variations in electricity supply from wind and solar sources, however, also note that mountainous regions, where the potential for MGES is higher, also tend to favour wind power.
---
[i] Hunt J, Zakeri B, Falchetta G, Nascimento A, Wada Y, & Riahi K (2019). Mountain Gravity Energy Storage: A new solution for closing the gap between existing short- and long-term storage technologies. Energy DOI: https://doi.org/10.1016/j.energy.2019.116419
[ii] https://www.iiasa.ac.at/web/home/about/news/191111-MGES.html
Related Analysis
Disruption is one of the cornerstones of the success of Fortescue Metals Group. FMG's ability to get things done in the face of seemingly insurmountable barriers can be illustrated no more vividly than when BHP and Rio Tinto sought to prevent the then start up iron ore miner from accessing its rail lines in the Pilbara. FMG built its own and outdid its rivals by extending those lines to Perth. Now FMG wants to apply the same zeal to energy and green steel.
The fourth quarter of 2020 saw the NEM reach lowest average demand since Q4 2001 – with SA and Victoria's spot prices hitting record lows. Are customers benefiting from the price suppression effects of renewable energy generation? Or is the market telling us a different story?
The way 2021 has started, you could be forgiven for thinking it is the year of the big battery. Plans for the "world's largest battery" were unveiled for the Hunter Valley, while Meridian Energy announced a battery energy storage system to be co-located with the Hume Hydro Power Station. These are just the latest in a series of big battery project announcements.