The challenges raised for the grid and dispatchable generation by the South Australian "experiment" are also being faced by other countries and power systems internationally.
Renewable energy across the globe has grown rapidly over recent years. Solar PV experienced record global deployment in 2017, and falling costs for wind and solar energy along with government policy support have helped to fuel the growth of renewable energy across the globe.
However the intermittency of renewable energy creates challenges around security of supply and how to ensure continuous and stable power. "Keeping the lights on requires the continuous balancing of supply and demand across all timescales, from moments to years".[i] And the challenge of integrating large-scale renewables is further complicated by greater decentralisation of energy sources like solar PV, "smart loads such as electric vehicles, and the spread of digitalisation"[ii].
The need to develop greater power plant flexibility has become a global priority according to a new International Energy Agency (IEA) report, Status of Power Systems Transformation – Advanced Power Plant Flexibility.
The report recognises that there is a shift in the role of dispatchable power stations, stating:
"Historically, baseload, intermediate and peaking plants helped meet specific segments of electricity demand at least cost by providing the appropriate mixture of energy and capacity. These plants were designed, from a technical standpoint, with these specific operating conditions in mind. From an economic standpoint, the plants were financed under the expectation of a certain number of operating hours. Today, as a new generation of technologies with distinct cost structures and technical characteristics enter power markets at scale, many existing power plants are being asked to operate with greater flexibility, and in some cases for a reduced number of operating hours."
The IEA argues that faced with the current energy transformation, "policy-makers and other power-sector stakeholders need a co-ordinated and proactive response to managing these market changes and ensuring electricity security in modern power systems".
Responses can range from modifications in the operation of existing power plants to adding new generators to the grid to provide additional flexibility capabilities. The report highlights that significant new capital investments are not necessarily required to operate power plants more flexibly.
"Indeed, low-cost improvements can easily be achieved by changes to operational practices for existing power plants, like better monitoring and control equipment.
"Flexibility of power plants can also be improved by a range of retrofit options or state-of-the-art flexible power plant technologies," the report says.
It recognises that what might work best for the system overall may impact individual power stations. Under these circumstances public policy can help bridge the gap between system needs and individual plant operations to maintain profitability under an increasingly flexible operating environment. Options include policy, market and regulatory instruments.
Phases of Integration
The IEA has identified six phases of integrating variable renewable generation into the grid and managing system flexibility. Countries can be categorised according to their deployment phase.
Phase 1: Insignificant levels of VRE.
Phase 2: Changes between load and net load become noticeable. Upgrades to operating practices and making better use of existing system resources are usually sufficient to achieve system integration.
Phase 3: Greater swings in the supply-demand balance prompt the need for a systematic increase in power system flexibility that goes beyond what can be fairly easily supplied by existing assets and operational practice.
Phase 4: The output from renewables can provide a large majority of electricity demand during certain times, which requires changes in operational and regulatory approaches. Operationally it involves managing system stability, while from a regulatory aspect it could involve rule changes to require renewables to provide frequency response services.
Phase 5: Adding more renewables means their output frequently exceeds power demand, leading to a risk of curtailment of renewable output. In this period renewables can at times meet all demand. Shifting demand to periods of high renewable output and creating demand via electrification can help mitigate the issue. Another option is to enhance interconnection.
Phase 6: The main hurdle to even higher levels of renewables becomes meeting demand during periods of low wind and sun availability – it can be characterised by the potential need for seasonal storage and use of synthetic fuels (e.g. hydrogen).
The phase also depends not only the level of renewables in the system, but also the other characteristics of the local grid. The report points to South Australia and highlights that while overall Australia has a generally lower share of renewables, South Australia has a very high penetration and faces phase 4 type issues.
Figure 1: Selected country by phase, 2016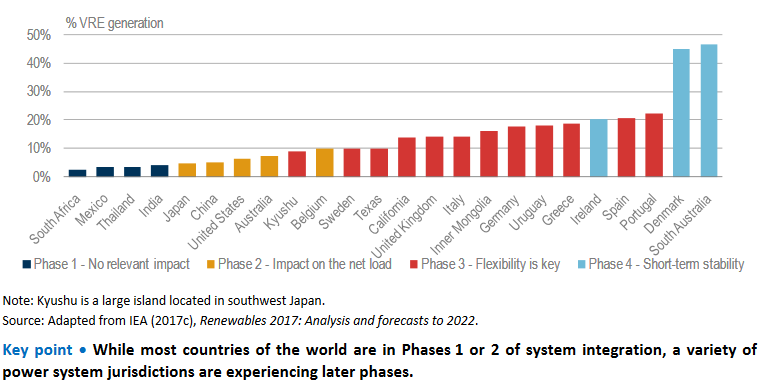 Source: IEA
Most advanced countries are primarily having to contend with issues in phase 3, while the vast majority of countries are still in phases 1 and 2.
Figure 2: Different aspects to support flexibility

Source: IEA
The IEA argues that the flexibility of a power system is determined by "the hardware and infrastructure available (the "what"), the policy, regulatory and market frameworks (the "how"), and the institutional roles and responsibilities of entities providing flexibility (the "who") – and all three aspects must work in concert to support system flexibility (Figure 2).
The IEA report can be found here.
---
[i] Status of Power System Transformation, IEA, May 2018
[ii] ibid
Related Analysis
With the world's eyes on COP26, Australia may be looking in the wrong direction for the next major step on decarbonisation. Bilateral trade pacts centred around a US-EU alliance could be the way forward and may give Australia pause for thought on its own approach; but the picture may be more complicated.
The IEA's World Energy Outlook 2021 report is a crystal ball look at emerging trends and their potential impact on how energy systems evolve. While most of the focus is on the total share of energy markets by generation and fuel type, the report also carries insights into emerging energy security risks as the world moves to lower emissions grids - which it notes could be on a "bumpy" road.
The Federal Cabinet recently met to consider the Government's plan for a net zero emissions by 2050 target. This has proved challenging for the Coalition partners. The push for stronger interim targets has emerged in the lead up to the Glasgow Climate Summit and has been reinforced by other countries increasing their commitments. We look at some of the targets that have been set both domestically and internationally.