The potential of shale gas deposits in the Northern Territory was highlighted last week with media reports suggesting that Origin Energy was sitting on a gas "bonanza"[i] at the Beetaloo Sub-basin that could ease pressure on the east coast gas market.
The gas potential of the Territory was also in the spotlight with work beginning on Jemena's 622 kilometre Northern Gas Pipeline (NGP), which will connect the NT to the east coast gas market (Tennant Creek to Mt Isa).  First gas is scheduled to flow in late 2018[ii].
Australia is considered to have substantial prospective shale gas resources. The NT is estimated to have more than a third of the resource and almost 70 per cent of this is thought to be in the Beetaloo Sub-basin of the McArthur Basin, which is considered the main focus for future development in the Territory[iii].
Figure 1: Northern Territory shale gas map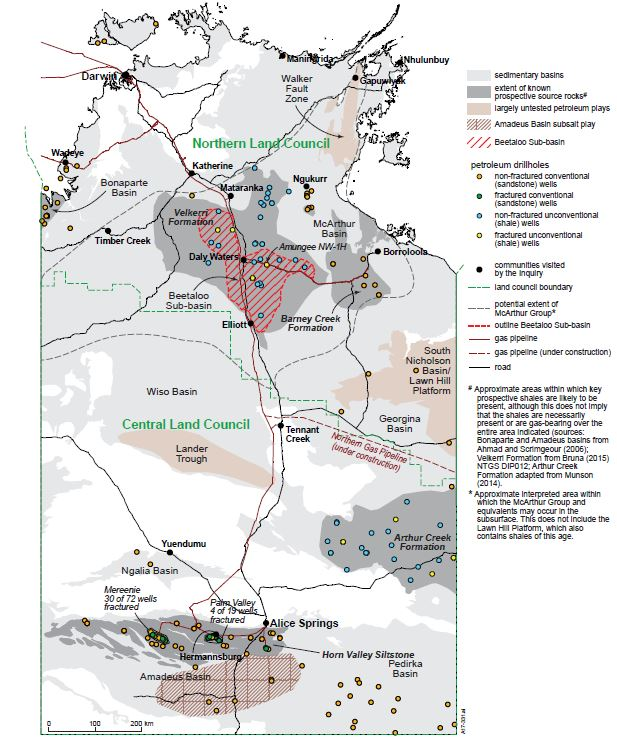 Source: Scientific Inquiry Into Hydraulic Fracturing in the Northern Territory, Interim Report
Capricornia's "cornucopia" caught by ban
The block to realising the NT's shale gas "cornucopia" is the current moratorium on unconventional gas deposits that was put in place by the NT's Gunner Government in September 2016.  The ban will stay at least until the scientific inquiry, chaired by Justice Rachel Popper, judge of the Land and Environment Court of NSW, completes its work at the end of this year.  The inquiry is looking at:
The risks of hydraulic fracturing of shale reservoirs and associated activities on environmental, social, cultural and economic conditions;
Whether the risks can be mitigated to an "acceptable level" and if so, how this can be achieved; and,
Whether the existing regulatory framework is sufficient and, if it's not, what changes need to be made.
The recent Finkel Review commented that "governments should avoid blanket restrictions and bans on gas projects and instead encourage the safe exploration and development of the industry. Evidence based regulatory regimes enable the risks of individual gas projects to be managed on a case-by-case basis."
Finkel also flagged that the role of governments (and industry) is to provide leadership and establish community trust while ensuring legitimate concerns are acknowledged and addressed. The NT inquiry can certainly fit within this context.
Queensland offers learnings
How to deal with legitimate concerns and providing leadership in managing unconventional gas development (coal seam gas) in Queensland is the subject of the recently released GasField Commission's report "On new ground – Lessons from development of the world's first export coal seam gas industry".
It highlights the steps to arrive at a successful coal seam gas (CSG) industry in Queensland after a rocky start. In fact, critics of the onshore gas developments in the state described it as an "1850s-style 'gold rush' to secure gas resources" with companies and their agents accused of open aggression towards landholders and an unwillingness to provide more than generic information.  That was initially driven by the Beattie Government's policy – A Cleaner Energy Strategy, which mandated that by 2005, 13 per cent of the state's electricity should come from gas power stations.
Following that headlong rush to get more gas, the industry encountered resistance and the GasFields Commission was established. Its learnings over seven years (2010-2016) are intended to help inform any jurisdiction "examining or contemplating any future wave of CSG development or any development with similar characteristics"[iv].
Major learnings include:
Land access is a business to business relationship – there must be mutual knowledge of, and respect for, the businesses that are competing for access to and use of scarce resources such as productive land and water.
There must be a robust and trustworthy regulatory framework - the framework should include tenure requirements, project approvals, land access codes, environmental management including water, health, safety and social impacts.
The gas industry must understand all impacts on the community - engage early with local government to help counteract its initial community impacts and build a stronger future.
"Trust facts not emotion" (especially good science on geology and water) - open and transparent sharing of information through bulletins, fact sheets and technical papers is flagged as the key to building trust.
Pursue effective communications and engagement – inadequate communication early on was a breeding ground for fear and confusion.
Leverage legacy opportunities.
NT – The way forward
As with the Queensland commission, the NT's inquiry also witnessed existing community concerns firsthand. "The anxiety, if not hostility, surrounding fracking was on display during the first round of community consultations held by the inquiry. Overwhelmingly, the message ... was that fracking was not safe, was not trusted, and was not wanted". The inquiry notes, however, that those were not universally held views and many expressed that properly regulated and adequately safeguarded extraction of onshore gas by fracking could be beneficial.
The NT inquiry makes it clear that if fracking is to proceed there needs to be greater understanding of likely impacts and appropriate regulatory framework.
An interim report found that effective water management will be crucial. It also found that the risk to surface water flows are likely to be low for semi-arid and arid areas of the Territory. The risk for any shale gas developments in areas in the northern (and wettest) part of the Territory will need to be assessed on a case-by-case basis and consideration should be given to whether those areas should be considered no go zones or restricted activity zones.
But the panel documented a number of knowledge gaps that will need to be addressed before water-related risks of possible onshore shale gas development in the Beetaloo Sub-basin and other areas of the territory can be made. 
It has also commissioned ACIL Allen to provide "realistic" modelling of the economic benefits of an unconventional gas industry and Coffey Services to develop and implement a social impact assessment framework and apply it to communities in and around the Beetaloo Sub-basin.
There's a lot riding on the outcome of the NT's work on unconventional gas amidst growing demand for additional gas for domestic supply and the mounting political pressure that comes with that. The key to the next steps – as the GasField Commission highlights - rests with getting the parameters right and bringing the community along.
---
[i] The Australian, "Origin sitting on shale gas bonanza", 20 July 2017
[ii] http://jemena.com.au/industry/pipelines/northern-gas-pipeline
[iii] Scientific Inquiry Into Hydraulic Fracturing in the Northern Territory, Interim Report, July 2017
[iv] GasFields Commission, On New Ground, Lessons from development of the world's first export coal seam gas industry, June 2017
Related Analysis
The latest US Energy Information Administration (EIA) annual energy outlook provides a useful insight into the shifts in both the drivers of electricity consumption and the anticipated transition in the generation sources. In particular it highlights the ongoing important role that gas generation will play in the energy mix as renewables continue to grow.
When the market operator released its gas outlook for eastern and south-eastern Australia this week a lot of media focus was on the potential for a "gas squeeze". But the assessment also flags the potential for electrification to impact gas consumption into the future, the continuing importance of gas generation and a likely change in peak demand periods for its output.
As energy consumers, we are always looking at more efficient and cost-effective ways of heating and cooling our homes and workplaces. In the southern parts of the country, gas remains a mainstay of heating as many still think it is cheaper than electricity, which is often not the case. But is degasification plausible?