Financial markets offer derivatives (or hedge contracts) to help electricity market participants to manage their exposure to jurisdictional spot prices. Derivatives come in two forms - over-the-counter contracts (OTC) and exchange traded futures. Most OTCs are bilateral agreements between generators and retailers and the information surrounding these agreements is often not publicly available. Exchange traded futures are offered on the Australian Securities Exchange and the information is readily available. These contracts come in multiple forms, including the period covered (calendar year, financial year, quarters, and monthly) and the type of contracts (base, peak, off peak and $300 caps).
These contracts offer electricity market participants such as large users, retailers and generators the opportunity to hedge their positions and limit exposure to spot prices, which fluctuate between the market price cap of 14,000 $/MWh or the price floor of -1,000 $/MWh. Over recent years, due to oversupply in the National Electricity Market (NEM) and declining demand, contract prices have been quite stable when compared to previous periods.
South Australia has experienced historically high wholesale electricity prices, due to isolation (being on the edge of the NEM) and extreme weather, which can lead to prolonged periods of high prices. The announcement of the closure of Northern power station in South Australia led to a large increase in baseload and peak future contract prices. Figure 1 shows baseload prices across the NEM for calendar year 2017. Tasmanian prices are not included as wholesale prices in the state are regulated.
Figure 1: Future baseload contract prices CY 2017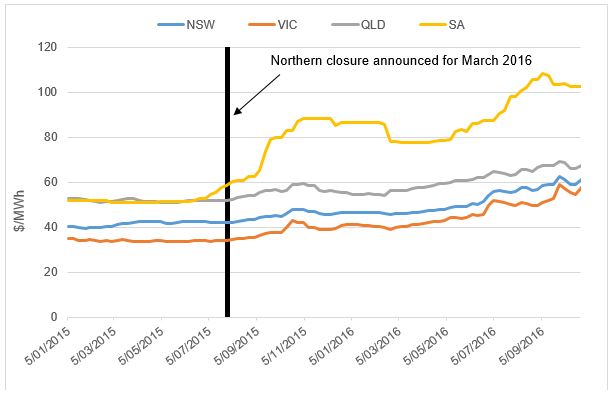 Source: Global-Roam, NEM-Futures
Contract prices are a good indication of the expectations of the overall supply/demand balance throughout the year. SA's average price was 52.18 $/MWh prior to Alinta's announcement (January 5 2015 - July 21 2015), that Northern would be closing and reached as high as 108.25 $/MWh on 6 September 2016. 
The increased prices indicate tight supply/demand over the period. The Australian Energy Market Operator (AEMO) produces a Medium Term Projected Assessment of System Adequacy (MTPASA) with a two-year outlook for each jurisdiction in the NEM. Figure 2 shows the latest projections for South Australia.
Figure 2: South Australia MTPASA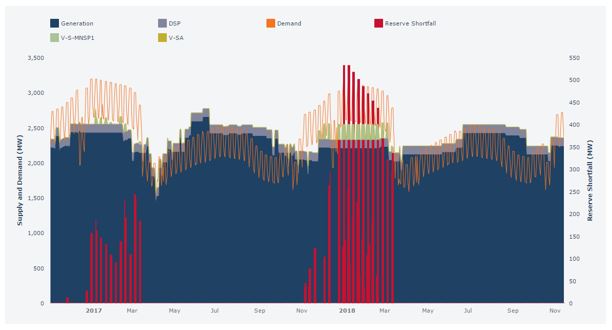 Source: AEMO
Reserve shortfalls (absent additional generation becoming available) are expected in the first quarter of 2017 and larger shortfalls are expected in the equivalent quarter in 2018. The reserve shortfall indicates that the aggregated generation, demand side participation and net imports do not meet the expected demand plus reserve margin for the region. The closure of Northern and a warmer than average summer across the eastern states[i], which is being predicted by the Bureau of Meteorology, are the key  factors contributing to these predictions.
Peak price contracts are a hedge against high prices between 7am and 10pm each week day. During the first quarter of the year, when prolonged heat waves can affect the eastern states and consequently the NEM, these contracts become extremely important for retailers to reduce their exposure to the spot market.. Figure 3 shows the year ahead quarter 1 prices for South Australia over the past 10 years. The 2007 data shows the price for Q1 2008 during 2007 and the 2016 data shows Q1 prices for Q1 2017 during 2016.
Figure 3: South Australia year ahead Q1 peak prices[ii]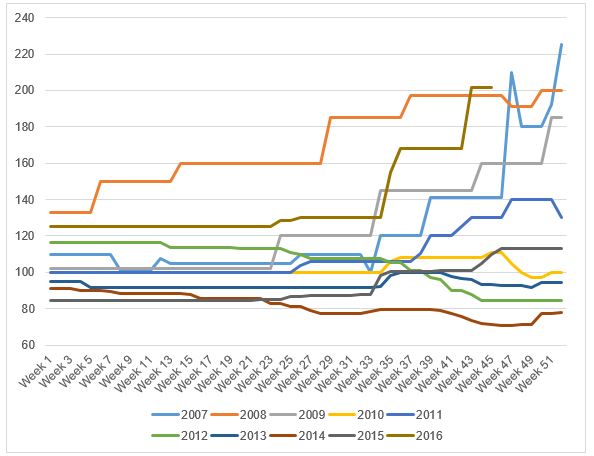 Source: Global-Roam, NEM-Futures
The recent price spike for the Q1 2017 data (2016 line) has reached levels not seen since prior to 2010. Between 2007 and 2010 demand across the NEM was growing, and the historic peak demand in SA occurred in January 2009 when south eastern Australia was affected by one of the most extreme heatwaves in its history, according to the Australian Bureau of Statistics[iii].
In contrast, declining demand and an oversupply of generation capacity, has kept prices lower over recent years. As low-cost baseload generation, such as Northern and Victoria's Hazelwood power station, continue to exit the market, price signals as seen in figure 3 become more likely. In doing so they offer incentives for generators to enter the market to help restore the supply-demand balance. But generation is a long-term investment and absent greater climate and energy policy certainty, even strong price signals may not induce new generation.
---
[i] BOM, Climate outlook for November to January, http://www.bom.gov.au/climate/ahead/archive/outlooks/latest-outlook.shtml
[ii] Data is obtained from each Monday. Where there is a public holiday, data is obtained on the Tuesday.
[iii] http://www.abs.gov.au/AUSSTATS/abs@.nsf/Lookup/1301.0Chapter1042009%E2%80%9310 
Related Analysis
With the ongoing growth of renewables in Australia there has been speculation of the overall impact this will have on an energy-only market like the NEM and in particular, its potential influence on spot prices.
We are pleased to publish a major report the AEC commissioned into the question of Scheduling and Ahead Markets, prepared by the National Electricity Market economists, David Smith and Veronika Nemes of Creative Energy Consulting.
A new report of an investigation into a promising market mechanism to support Primary Frequency Response from generators and batteries has just been released. The investigation was sponsored by our Queensland-based generator member, CS Energy, and carried out by well-known technical consultants to the industry, Intelligent Energy Systems.