The gas export industry had a challenging year in 2015, with LNG prices at their lowest level since 2009[i]. At the recent LNG18 conference efficiency and surviving in a market of excess supply was a hot topic. Domestically, the question remains: is a shortage of gas in the east coast gas market still a risk?
The supply glut in the global market for LNG is in contrast to the domestic east coast gas market. In 2012, Government officials warned that shortages in the east coast gas market[ii] would drive up prices. Through 2015 low oil prices reduced the ability and incentive for producers across the entire east coast gas market to explore for and develop gas, and increase supply.  In 2016 the Australian Competition and Consumer Commission (ACCC)[iii] has cited as major contributors to domestic gas prices today, a lack of:
committed new gas developments;
competition in pipelines; and,
transparency.
In 2016, the Office of the Chief Economist weighed into the conversation with their latest Gas Market Report and the results of new modelling of the east coast gas market. Figure 1 shows the rising diversity in gas producers on the east coast through the 2000s, although most of these new entrants have been enticed to supply gas to the export market.
Figure 1: Producers in the East Coast gas market over time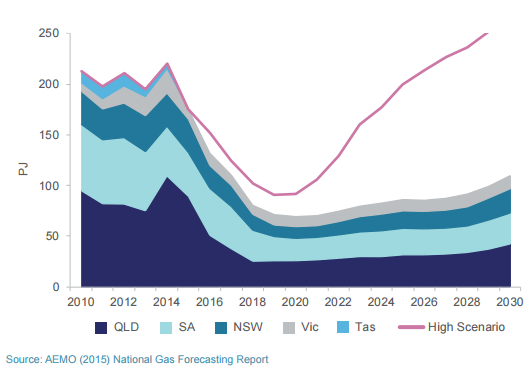 Source: Department of Industry Innovation and Science (2015), Gas Market Report 2015
The Chief Economist believes that there is sufficient production capacity to meet projected domestic and export demand for the next 20 years on the east coast - but only under the right market conditions, both domestically and internationally.
The ACCC also says there is sufficient east coast reserves to meet likely demand for the foreseeable future, but warns that it is not clear whether these reserves will be developed in a timely fashion to meet demand at a particular point in time.
It also points to three significant factors that will affect the reliability of future gas supply:
Significant demand for LNG projects, which has diverted gas from traditional sources of domestic supply;
Low oil prices reducing the ability and incentive of producers across the east coast gas market to explore for and develop gas; and,
According to the Chief Economist, the reserves in the south (Gippsland, Bass and Otway Basin and NSW Coal Seam Gas) are not sufficient to meet demand in the south, and will require the development of new reserves, or imports from the north (the Cooper Basin, Queensland or the Northern Territory).
Given the state government moratoria and other regulatory restrictions on developments in the south and the relatively high prices to meet global LNG demand, its expected that prices will remain higher for longer.
If global LNG demand is at the lower end of the range, Australia's excess gas production can be stored or sold into the domestic market – which will lower domestic prices.
The main sector in the domestic market which can absorb an excess in supply is gas-powered electricity generation. This is largest in Queensland and South Australia where some gas-powered generators are currently being mothballed, but could be brought back online with the right market and policy settings.
But the Chief Economist expects global LNG demand to grow strongly to 2020, and if LNG spot prices are high there is an incentive for domestic gas producers to sell excess gas on the international spot market. In the near term, this will result in lower supply in the domestic market.
The ACCC concludes a more competitive market requires more gas supply and more sources of gas supply than currently exists[iv]. While the ACCC may be able to require the Gippsland Basin Joint Venture partners to market their gas separately, further diversity of supply appears unachievable without onshore development of unconventional reserves.
Both the ACCC and Chief Economist reports reflect that the future gas supply is uncertain. But it's clear that meeting future domestic and LNG demand will require extensive development of undeveloped gas reserves.
---
Related Analysis
They say everything's bigger in Texas. The major power outages from which it is just emerging, were triggered by a polar vortex and impacted around 4.5 million customers. There's been plenty of finger pointing with intermittent renewables being blamed, questions raised about Texas's go-it-alone attitude and claims of poor preparations stemming from a deregulated energy market.
The shift to an increasingly low-carbon grid will continue to bring major structural changes to electricity systems around the world and, with it, new challenges in managing security on various levels.
We are often discussing the new challenges of securely operating a power system with new renewable and storage technologies. Twenty years ago the National Electricity Market supply was much more uniform relying on conventional large power systems, predominately coal. But that was no cruise either as the power system then faced a routine threat as big as anything we face today, but has now abated: industrial action.