The Productivity Commission recently released Shifting the Dial[i], the first of a five-yearly review series that takes a wide-ranging look at the different factors that may affect the nation's economic performance in the mid-term. The nation's energy markets feature, and form Recommendation 5.1.
The review was sent to Government on 3 August 2017 and was publicly released on 24 October 2017. While it has since been superseded by the National Energy Guarantee, we look at the aspects of the review that are relevant in the current energy debate[ii].
Figure 1: 5 Year Productivity Review, Recommendation 5.1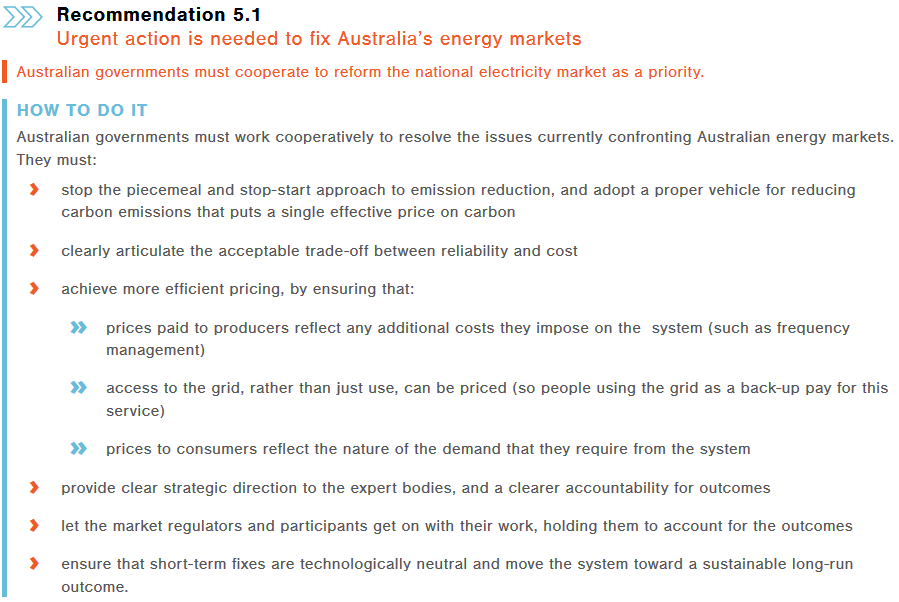 Source: Australian Government Productivity Commission, Shifting the Dial: 5 year productivity review, August 2017
From the outset the review states that productivity is not "about extracting more sweat from the brow of an already hard-working Australian," instead it is about better investment, enabling research and trialling new ideas, and "not defending outmoded regulation that prevents consumers and businesses obtaining access to better services."
It states that "Australian energy markets, particularly those in eastern Australia, are in a fragile state." The estimated cost of the South Australian blackout on 28 September 2016 was $367 million, and the report predicts that "with electricity and gas making up 2.5 per cent of GDP, and being an essential input for all industries, the cost of failure to resolve the problems will only rise in the future."
The Commission argues that the elements that have contributed to a system under pressure are:  
Lack of clarity on emission reduction policies,
Increasing reliance on intermittent and variable renewable energy,
Moratoria on gas exploration and development; and,
The commencement of gas exports from the east coast,
However the challenge is to resolve these issues while maintaining an affordable, reliable and sustainable energy supply. While there are current problems to be solved, the review cautions that there is a need to transform the energy system so it continues to deliver in both the short and long term. It focuses on what the reform process must achieve to resolve the problems of the sector and states four key areas for Governments to consider:
Restore national agreement on simple, clear objectives that recognise the inherent tensions between prices/costs, reliability and emissions, and provide clear guidance on acceptable trade-offs, then leave the field to expert implementation.
Determine which institutions do what, then let them get on with their work, holding them to account for their stated responsibilities.
Ensure that the energy sector can access the full set of instruments in doing their work, not locking in or out technologies, or excluding other solutions by design.
Set out a clear road map for reforms, ideally with cross-jurisdictional commitment.
Clear objectives
The review argues that many households can cope well with short interruptions to energy supply, or are happy to reduce energy consumption for short periods (especially if scheduled). However building in redundancy to improve reliability comes with extra consumer costs.
The review states that: "'Gold plating' the poles and wires was responsible for a substantial share of the rise in the cost of electricity over the past decade. In part this was due to poor regulatory arrangements that rewarded over-investment, but in part it reflected an over-emphasis by governments on reliability. System reliability in power is not a yes/no question. There are known and effective mechanisms to manage reliability according to different user's preferences."
There is a trade-off between reliability, cost and emissions – and, according to the review, the regulated price is not designed to deal with this.
Carbon emission intensity is to be reflected in regulated pricing - and while how to achieve this is debated - technologies such as solar and wind generation are a vital part of the "properly-priced future".
Some renewable technologies have costs, can be intermittent, and require frequency management services. But the review argues that these issues can be managed through batteries, greater linking across the network, and other ancillary services - but these will increase costs. A commitment to emission reduction targets is essential, so investment confidence can deliver reliability and electricity at the lowest cost.
It states: "Governments need an emissions target to provide certainty for the sector about the trade-offs allowed between emission reduction and cost. From these judgments better decision-making will flow on how and where to invest in future system reliability … the system must be able to deliver a reliable supply to users who face high costs of disruption."
Institutional structures
The increase of renewable generation has uncovered new challenges, while the spread of generation across the nation has also made it harder for the system operator to maintain reliability and security.
The review states that these issues can be addressed by "ancillary services that can modulate frequencies and provide complementary generation, batteries, or other storage that can ramp up quickly as needed." And it argues that governance arrangements have not adapted (or not quickly enough) to emerging issues.
It argues that a sound system would have:
Australian governments jointly setting a clear long-term strategic vision using outcome-focused language that integrates energy and environment policy
the COAG Energy Council restricting itself to developing policy to achieve this vision, with subsequent implementation clearly the role of the AEMC and AER
the same regulatory roles and responsibilities for the AER in each state over which it has jurisdiction
a nationally consistent approach to regulation for all companies operating within particular market sectors and consistency in its regulatory determinations across companies and states
economically efficient network pricing for the use of electricity and gas transmission and distribution networks.
Gas markets
The review states that "difficulty for generators in accessing long-term supply contracts at acceptable prices, coupled with uncertainty in carbon pricing, reduced the viability of investment in gas-fired generation — the natural complement to renewables."
Federal Government legislation, which will allow it to use export controls to divert gas to the domestic market, "could impose sovereign risk and is undesirable." It suggests that one place to start is removing the moratoria on gas exploration and development in New South Wales, Victoria, Tasmania and the Northern Territory, which have slowed the growth in supply.
Grid pricing
The increase of distributed generation - especially roof-top solar - is changing how networks are used. The review points out that for the system operator, small producers are invisible, but they affect the flow of electricity. This not only creates potential risk for asset owners, but also raises challenges for regulators to maintain system stability, reliability, and in setting prices.
It argues that there are various ways network owners can price their services. It suggests that "one option is to have an 'insurance' charge applied to premises that can access the grid, even if they do not draw power from it (other than in an emergency). Different charges might apply to those premises that both buy from, and sell into, the grid reflecting the different costs imposed by this use of the asset. Regulators will need to ensure that, whatever pricing regime is developed, the owners of the networks bear the costs of their decisions to under or over invest and that they cannot just pass this onto consumers in regulated prices."
Demand management
The review states that "smoothing the transmission load by shifting energy demand from peak to off-peak periods reduces the carrying capacity required and would have reduced the past investment in transmission augmentation by billions of dollars. This horse has bolted, but the same mistake must be avoided in the future."
Allowing wholesalers to manage demand through long-term contracts reduces the need to maintain higher levels of spare capacity to meet demand spikes. The report argues that progress has been made, but more could be done:
Residential and other small customers need to have price incentives to reduce demand at times when the system is expected to be under stress.
Progress is being made on the information and technology to support demand management, but most small consumers still do not face demand reflective pricing, including time of day pricing.
Conclusion
The report argues that while immediate action is needed, there is a "real danger" that the system required will not be delivered if there is continued "regulatory mess".
Short term certainty of a carbon target is not likely to increase investment because, lacking risk information, investors are unlikely to commit. While the refurbishment of existing coal-fired power is doubtful.
"Doing nothing on emissions intensity is most likely to ensure that the fear of redundancy for coal will become a reality. A future without a coal-fired baseload has very different implications for the transmission and distribution system, and for the operability of the National Electricity Market."
---
[i] Australian Government Productivity Commission, Shifting the Dial: 5 year productivity review, August 2017
[ii] The review also discussed the Renewable Energy Target however this has since been superseded by the National Energy Guarantee, which incorporates both a reliability and emissions guarantee.
Related Analysis
In its Net Zero by 2050 paper the IEA envisions a world where by 2030 electric cars account for over 60 per cent of car sales, and by 2035, nearly all cars sold globally are electric. AEMO electricity consumption forecasts show where it sees electrification of transport occurring and highlights expected growth in EV usage.
The IEA's Roadmap for how the global energy sector can reach net-zero by 2050, warns the window for success is "narrow but still achievable". It lays down recommendations for the type of policy action that is required if the world is to get there, and its blunt realism is confronting reading.
In February Texas endured a winter storm that dragged temperatures well below freezing. Electricity generation plant and gas infrastructure proved unprepared for these temperatures and around a third of the state's effective capacity went offline for some or all of this period, just as demand was spiking to a new winter record.