The shift to an increasingly low-carbon grid will continue to bring major structural changes to electricity systems around the world and, with it, new challenges in managing security on various levels.
At the same time the increasing electrification of the economy with electricity expected to play a bigger role in heating, cooling and transport as well as digitally integrated sectors such as communication will also place energy security higher on the policy agenda, according to a new assessment by the IEA.
The power landscape is undergoing significant change and is being shaped by factors such as the growing role of variable renewables (VRE), decreasing thermal generation, falling contributions from traditional low-carbon sources, such as nuclear, increasing digitalisation and climate change.
In its new report Power Systems in Transition[i] the IEA has reviewed threats to energy system security that will need to be managed in coming decades. And policy makers and system planners will need to increasingly consider:
New measures to ensure operational security and longer-term system adequacy
Emerging cybersecurity risks
The need for greater resilience against climate change impacts, including extreme weather events.
The combination of these factors will alter the potential impact and likelihood of electricity supply interruptions and will put pressure on parts of the electricity security framework.
Some of the trends identified in the IEA report and their potential impacts on system security are shown in Figure 1 below.
Figure 1: Electricity system trends and potential impacts on aspects of electricity security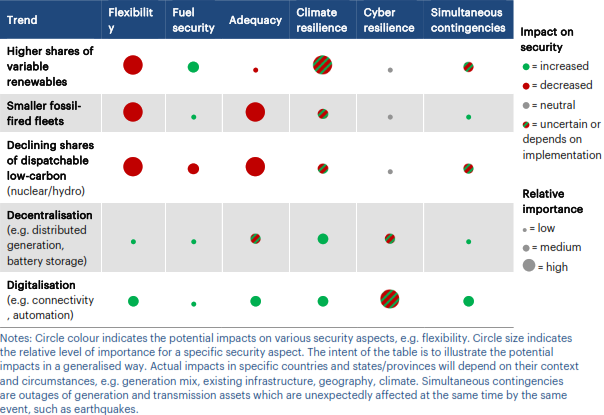 Source: IEA
Trends will alleviate some system security concerns, while increasing others and future electricity security frameworks will need to contend with these.
Greater variability
The integration of increasing amounts of variable renewable energy (VRE) has introduced a range of transitional challenges.  The report argues that VRE integration goes through six phases based on its evolving impact on the energy system, which is illustrated in figure 2 below.
The shift to solar PV and wind implies a shift from conventional rotating generation to inverter-based generation and as a result in phase 4 with a high share of VRE, the system faces challenges in maintaining stability, including ensuring enough inertia while keeping overall system costs down. Reliability services required to keep the lights on will need to evolve in response to the increased VRE penetration.
Figure 2: VRE integration phase assessment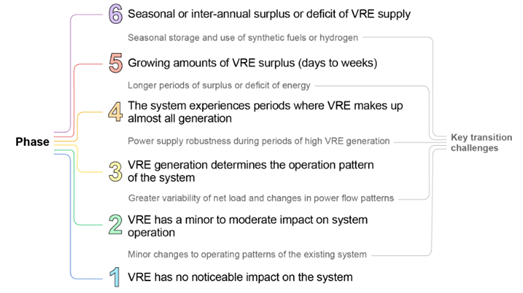 Source: IEA
Governance frameworks will play a critical role with government and regulators needing to update legal and regulatory requirements.
Regulators will need to adjust market designs and standards to reflect greater variability of supply and demand. In recent examples where this has occurred the US Federal Energy Regulatory Commission issued Order 842 in 2018 requiring all new generators to be capable of providing primary frequency response as a precondition for grid interconnection. Meanwhile, the European Union had established its grid code in 2016 that requires all new connections to have essential ancillary service capabilities.
Greater integrated system planning will also be required. The IEA notes that policy makers can ensure that transmission and distribution planning processes are better integrated with generation planning, particularly as the latter begins to take system flexibility into consideration. Appropriate planning rules will play a crucial role in the expansion of the electricity sector and need to foresee the impacts of low-probability but high-impact events covering the grid, new generation, storage and other flexibility options.
Digitalisation
The report argues that policy makers will also need to update their catalogue of technologies that contribute to security of supply and can take advantage of increased capabilities offered by digitalisation to keep costs down, particularly as increased electrification occurs in sectors like transport and heating.
Digitalisation and new capabilities introduced by technologies, like batteries, will expand the toolbox that policy makers and system operators can draw on.  Technology can already provide a number of services, but regulation, interconnection standards and grid codes need updating to take full advantage of the capabilities of existing assets.
Digitalisation will allow mobilisation an array of end use devices to respond to system needs by increasing or reducing loads. In coming years deep electrification of the economy will mean systems will need to draw on digitalisation to control an array of devices to reduce their use following price signals or technical orders.
Another factor at play is increasingly active consumers with technology with digitalisation enabling and supporting this trend.
Connected devices, such as smart thermostats and appliances, and smart grid technologies could unlock more demand response resources, improve energy efficiency and facilitate the integration of higher shares of VRE cost effectively and securely.
Cyber risks
This growth in connected devices and distributed energy resources along with increased connectivity and automation throughout the electricity system could, however, also increase their vulnerability to cyberattacks.
The report argues there is a substantial and growing risk of cyberattack which warrants strong action to enhance resilience. While disruptions to electricity systems from cyberattacks have so far been small compared to other causes, such as power outages from storms, equipment failure or operational errors, there are plausible scenarios where cyberattacks could cause substantial harm to grids . The 2015 attack on western Ukraine's power grid in which substations were switched off was the first confirmed cyberattack specifically targeting an electricity network.
Cyberattack prevention may not be possible, but electricity systems can be designed to be more cyber resilient – to withstand, adapt to and rapidly recover from incidents and attacks, while preserving the continuity of operations. Potential actions to address this are shown in figure 3.
Figure 3: Potential actions to enhance cyber resilience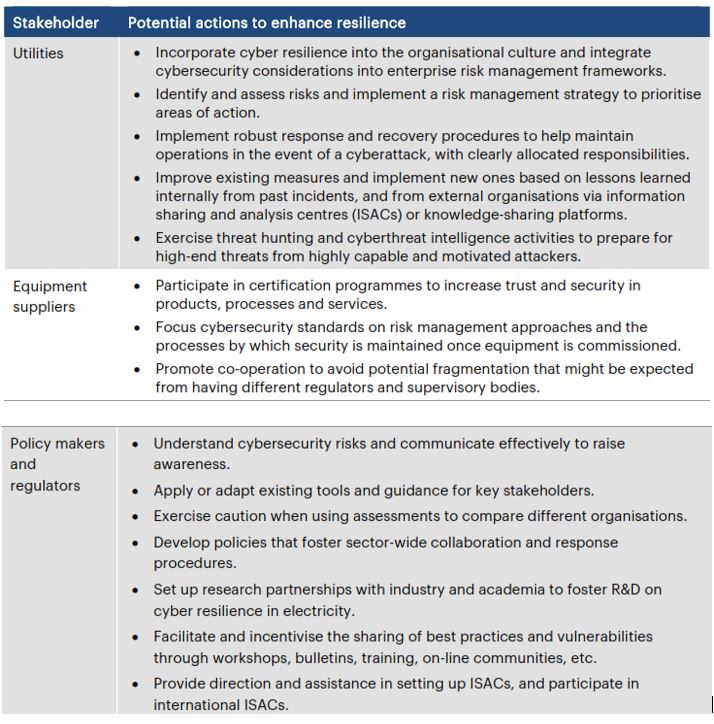 Source: IEA
At a regulatory level a number of cyber resilience policy approaches have been adopted internationally – ranging from highly prescriptive with mandatory requirements to performance-oriented framework-based approaches. The elements of these approaches are shown in figure 4.
Figure 4: The spectrum of cyber resilience approaches

Source: IEA
The IEA report highlights that traditional frameworks for ensuring electricity security won't be enough in the face of the dramatic changes underway – the increasing diversity low-carbon generation technologies and flexibility resources, such as demand response, storage, digitalisation and greater market interconnection. Changes that will require policy makers and system planners to update policies and market designs.
---
[i] Power Systems in Transition, Challenges and opportunities ahead for electricity security, IEA, October 2020
Related Analysis
In February Texas endured a winter storm that dragged temperatures well below freezing. Electricity generation plant and gas infrastructure proved unprepared for these temperatures and around a third of the state's effective capacity went offline for some or all of this period, just as demand was spiking to a new winter record.
In 1971, when asked to assess the influence of the French Revolution, Chinese Premier Zhou Enlai famously remarked that it is 'too early to say'. So it is not surprising that after President Xi announced China's aim to be net-zero by 2060, some commentators framed it as 'the start of a marathon, not a sprint'. But is this assessment fair?
New modelling is behind an assessment that finds renewable generation is likely to account for as much as 60 per cent of new capacity in the US grid in coming decades.