In 2015 Australia became the world's second largest exporter of liquefied natural gas (LNG). Australia is tipped to reach the number one spot by 2020, surpassing Qatar, which has been the world's largest LNG exporter for almost a decade.
The top five export countries during 2015 and 2016 remained the same: Qatar, Australia, Malaysia, Nigeria and Indonesia, respectively (Figure 1).
Figure 1: Total LNG Exports by Country 2013-2016 (in MTPA)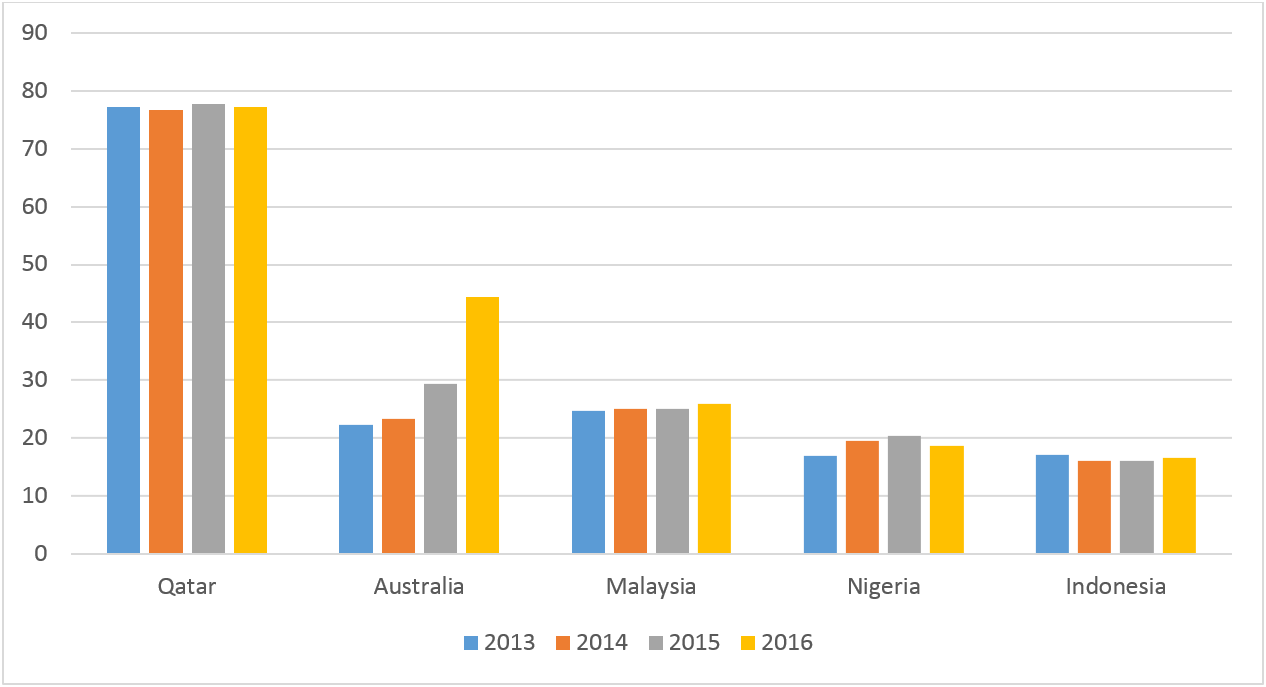 Source: IGU World LNG Report, 2014-2017 Editions
Figure 2: LNG Export Market Share by Country, 2015 and 2016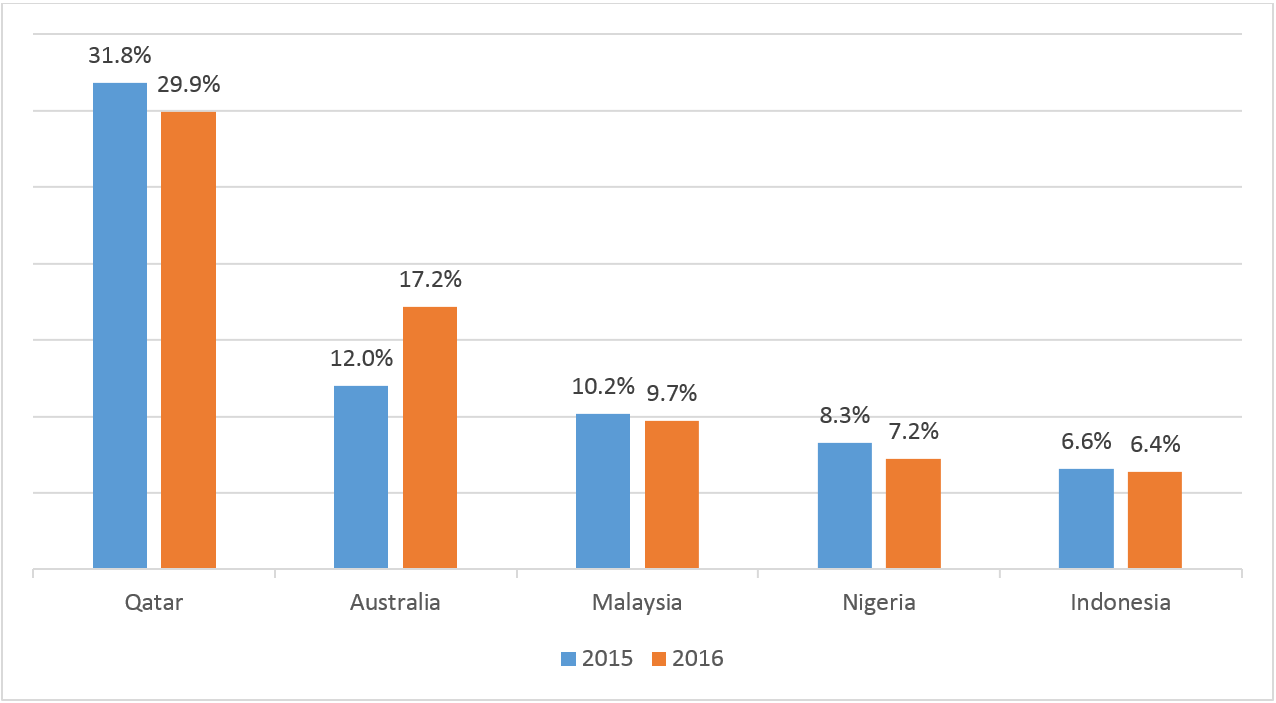 Source: IGU World LNG Report, 2016-2017 Editions
In 2015, Australia's market share ranked a distant second to Qatar's 31.8 per cent share (Figure 2). But due to new facilities coming on stream - Queensland Curtis LNG in 2014, Gladstone LNG in September 2015 and Australia Pacific LNG in December 2015 - Australia gained significant ground in 2016, and as these LNG projects ramp up to full capacity, Australia is expected to gain continued growth until 2020.
Australia's major LNG export markets are Japan, China and South Korea with several other possible markets emerging in Asia (Figure 3). More than half of Australia's total natural gas production was exported in 2016. The Australian Energy Market Operator (AEMO) expects Australia's LNG exports will account for 80% of production by 2020.
Figure 3: LNG export markets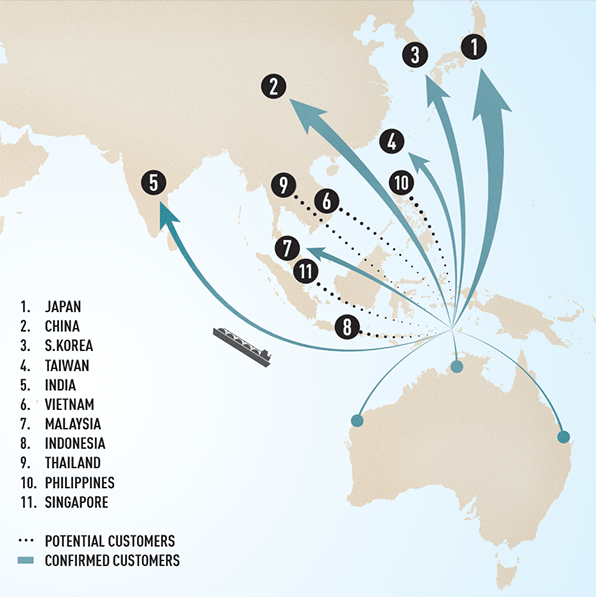 Source: APPEA
Domestic supply
Australia has three gas markets which are not interconnected: the eastern gas market (Queensland, New South Wales, ACT, Victoria, South Australia and Tasmania), the Northern Territory gas market and the Western Australian gas market.
The eastern gas market covers 86 per cent of Australia's population, and in 2016, LNG exports from eastern Australia represented 43 per cent of the country's total LNG exports[i].
As Australian exports have increased, the nation's eastern and southern states have experienced a shortage in gas supply. And since the introduction of LNG projects in Queensland, natural gas prices in the eastern gas market have doubled.
Figure 4: Australia's liquefaction facilities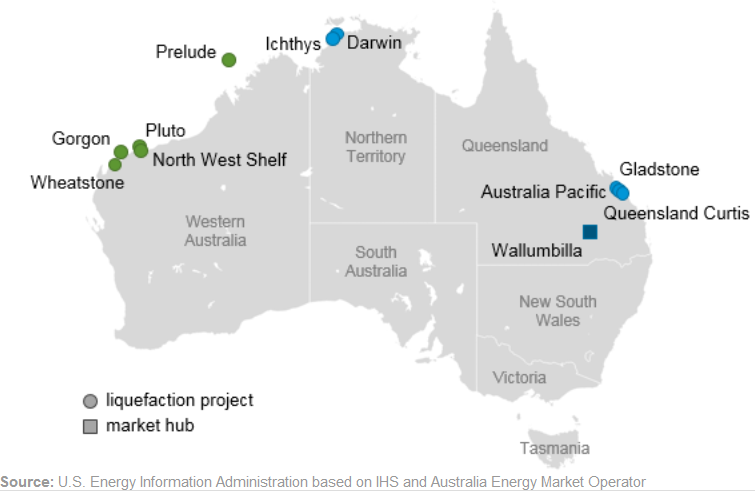 Shown in Figure 5, domestic natural gas prices topped Australian LNG export prices to Japan in mid-2016 and early 2017, when domestic natural gas shortages caused price spikes in natural gas markets. However at the same time LNG export prices in long-term contracts were trending lower, due to their linkage to the price of crude oil (the price of which was itself declining)[ii].
Figure 5: Eastern Australia daily spot natural gas price and LNG export price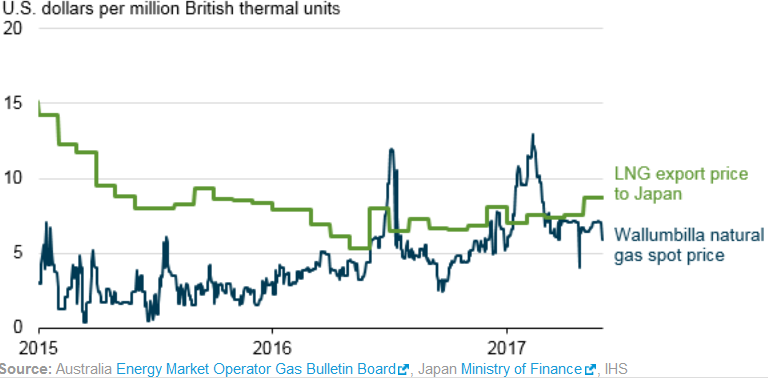 In September, AEMO forecasted the potential for a natural gas supply shortfall of 54 PJ in 2018 and 48 in 2019[iii] (Table 1).
Table 1: Gas supply adequacy assessment (PJ)

Source: AEMO, Update to Gas Statement of Opportunities, September 2017
Security mechanisms
On 1 July 2017, the Australian Domestic Gas Security Mechanism (ADGSM) came into effect. The ADGSM authorises the government to limit LNG exports if companies are exporting more natural gas than they are supplying to the domestic market. It will remain until 1 January 2023.
In October, east coast LNG exporters reached an agreement with the Federal Government to guarantee natural gas supply to domestic customers to cover the estimated supply shortfall. The 'Australian East Coast Domestic Gas Supply Commitment' requires east coast LNG exporters to offer sufficient gas to meet the forecast shortfall in 2018 and 2019, to avoid potential restrictions on LNG exports in 2018. The companies also agreed to sell natural gas produced in excess of contract volumes to the domestic market before selling it on global LNG markets.
East coast gas producers also made a commitment to the Federal Government to make gas supply available to electricity generators during peak periods. The 'Gas Supply Guarantee Mechanism' was established to deliver these commitments. While the ADGSM is intended to manage the annual domestic energy balance, the Gas Supply Guarantee focusses on short term deliverability and supply issues.
Future
The above security mechanisms have been introduced to control the energy balance and provide more gas supply to the market to reduce gas prices for consumers. However gas is also a fuel for the electricity industry, with gas-powered generators playing an important part in maintaining electricity supply. Higher gas prices feed-in to electricity prices, and in turn, lead to higher consumer costs. Prices in both industries could be reduced if additional sources of supply were developed to increase the level of supply.
One obstacle to developing more supply has been the opposition of some state governments to gas exploration and development. In its September interim report, the Australian Competition and Consumer Commission (ACCC) said "the moratoria and other regulatory restrictions in various states … continue to prevent or impede development of new gas supply and gas producers do not appear to be bringing on new supply fast enough in response to the higher market prices. While a number of projects and initiatives are on foot, these are not expected to impact the situation for 2018[iv]"
Lifting restrictions on exploration may provide the right set of conditions for industry to explore and develop new gas resources.
---
[i] US Energy Information Administration, October 2017
[ii] US Energy Information Administration, October 2017
[iii] AEMO Update to Statement of Gas Opportunities, September 2017
[iv] Gas Inquiry 2017-2020 Interim Report, September 2017
Related Analysis
In February Texas endured a winter storm that dragged temperatures well below freezing. Electricity generation plant and gas infrastructure proved unprepared for these temperatures and around a third of the state's effective capacity went offline for some or all of this period, just as demand was spiking to a new winter record.
The focus around AEMO's latest assessment of gas supplies for eastern Australia was on its improved outlook. One change in its expectations for gas demand flows from the potential of gas-fired generation in the National Electricity Market. AEMO expects gas-fired generation demand to become more "peaky" and to switch to peaking in winter instead of summer.
Disruption is one of the cornerstones of the success of Fortescue Metals Group. FMG's ability to get things done in the face of seemingly insurmountable barriers can be illustrated no more vividly than when BHP and Rio Tinto sought to prevent the then start up iron ore miner from accessing its rail lines in the Pilbara. FMG built its own and outdid its rivals by extending those lines to Perth. Now FMG wants to apply the same zeal to energy and green steel.