The Australian Infrastructure Audit released this week has highlighted that the growth in energy prices has become the dominant issue for the energy sector since its first infrastructure audit in 2015. The latest assessment also provides some interesting insights into the intention of Australian households and consumers to take up new energy technology, such as battery storage. We take a close look.
Affordability: Perception versus reality
As part of the latest audit, Infrastructure Australia commissioned JWS Research to assess community perceptions of Australia's infrastructure and included in this was an assessment of community views on energy.  The survey involved 5000 people across Australia, conducted between 16 and 21 November 2018.
The audit points to the 56 per cent real increase in the unit price of electricity and 46 per cent rise in real retail gas prices over the past decade and reports that there is now a broad perception that electricity is costly or very costly with over 60 per cent of consumers putting it in those terms.
Infrastructure Australia (IA) comments that electricity is seen as the least affordable form of infrastructure by Australian consumers, and least likely to improve, despite energy costs "not forming a large component of the average household expenditure, ranking behind transport and telecommunications costs". 
Average energy costs remain relatively small (they make up 3 per cent of total household spending, or $40 a week) when compared to transport costs (about 15 per cent or $205 a week) and are about the same as what we spend on our telecommunications[i].
Despite this users are unhappy about their energy bills and are also pessimistic about affordability in the future with only one in 10 expecting an improvement over the next five years.
Much of the perceived affordability issue with electricity is likely to stem from the recent price increases with household energy costs across the country having increased by more than inflation. The growth in prices has not been evenly distributed with the average cost for consumers in most of the National Electricity Market outpacing the trend in Perth and Darwin (see figure 1). The key reason for that is cited as price-setting and taxpayer subsidies provided by the WA and Northern Territory governments[ii].
Figure 1 Electricity price increases compared to CPI in the NEM, Perth and Darwin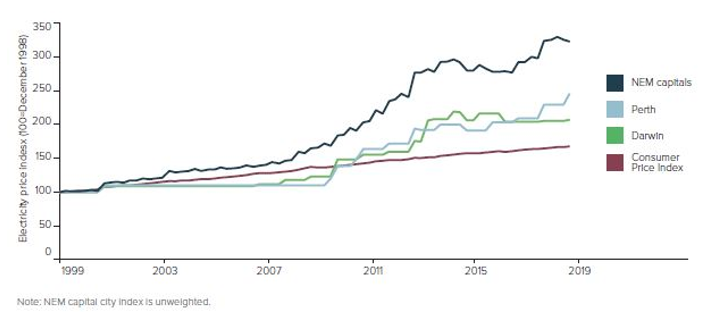 Source: Australian Bureau of Statistics 2019
On cost and affordability of electricity a majority (61 per cent) rate it as costly (including 29 per cent see it as very costly). It is also seen as less affordable than five years ago by 57 per cent of respondents, while 55 per cent of them expect it to be less affordable in another five years (see figures 3 and 4). Only 10 per cent of those surveyed considered that affordability would improve in the next five years (see figure 4).
Figure 2: Affordability of electricity networks and services

Source: JWS Research
Figure 3: Affordability compared to 5 years ago (%)

Source: JWS Research
Figure 4: Affordability expectations 5 years from now (%)

Source: JWS Research
A quality service
Most Australians rate the quality of their energy – electricity and gas – as good or average. The majority rate it as consistent with the quality five years ago, while some are concerned it could decline over the next five years (the reasons for this assessment are not analysed).
A majority of people consider the quality of electricity networks and services to be good (54 per cent, including 11 per cent who say it is very good, figure 5), and about the same of five years ago (69 per cent, figure 6) and likely to stay about the same over the next five years (61%, figure 7).
Figure 5: Quality of electricity networks and services (%)

Source: JWS Research
Figure 6: Quality compared to 5 years ago (%)

Source: JWS Research
Figure 7: Quality expectations 5 years from now (%)

Source: JWS Research
About the same percentage of respondents think the quality has become worse (17 per cent) than better (15 per cent) compared to five years ago.
Accessibility
In terms of accessibility a majority rate electricity as easy to access, about as accessible as five years ago and likely to stay about the same in the next five years (figure 8)
Figure 8: Accessibility of electricity networks and services – now, five years ago and in five years time respectively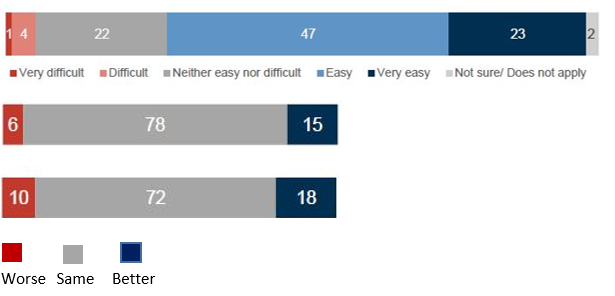 Source: JWS Research
Looking to the future
The survey also delved into the intentions of consumers in the adoption of new technologies.  It points to a proliferation of home electricity storage and connected or smart home appliances with around one in three people intending to make use of these within the next five years.  
While only 4 per cent of those surveyed already had energy storage, 59 per cent expressed an intention to use battery storage in the future – 31 per cent in the next five years and another 27 per cent in more than five years. The figure for 35-54 year olds is much higher than the overall average, with 64 per cent likely to use storage in future, while the states with the highest intention to add storage are SA (65 per cent) and Tasmania (67 per cent).
Infrastructure Australia's audit comments that over the next 10 years many more consumers will likely adopt home battery storage and points to the falling prices of batteries (down 80 percent between 2010-2017) which it expects to keep falling to 2030. The incentive to buy batteries will also be influenced by the payback periods. Currently the audit notes battery storage only serves a niche of households, but this is not through a lack of interest, but rather reflects the still relatively high current price.
27 per cent of people already have solar on their rooftops, but a further 27 per cent intend to install systems within the next five years and another 19 per cent are likely to use them in more than five years, while 25 per cent are not likely to use them or can't say if they will turn to solar PV.  The percentage of Australians already using solar PV is significantly higher amongst 55+ year olds (35 per cent), and in Queensland (36 per cent), WA (34 per cent), SA (40 per cent) and in the Northern Territory (39 per cent). Of those planning to install solar PV within five or 10 years, it is highest amongst 18-34 year olds (60 per cent) and 35-54 year old (49 per cent) and highest amongst households with an income about $100,000 (54 per cent).
Figure 9: Likelihood to use technological innovations in the future (%)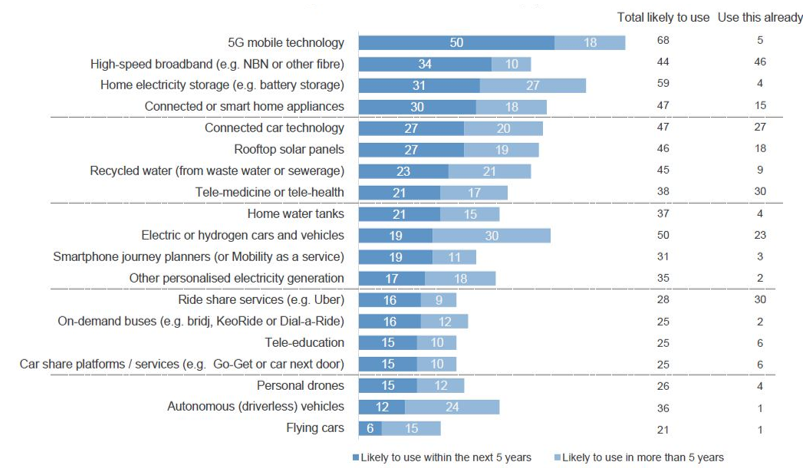 Source: JWS Research

---
[i] Australian Infrastructure Audit 2019, page 506
[ii] ibid
Related Analysis
They say everything's bigger in Texas. The major power outages from which it is just emerging, were triggered by a polar vortex and impacted around 4.5 million customers. There's been plenty of finger pointing with intermittent renewables being blamed, questions raised about Texas's go-it-alone attitude and claims of poor preparations stemming from a deregulated energy market.
The shift to an increasingly low-carbon grid will continue to bring major structural changes to electricity systems around the world and, with it, new challenges in managing security on various levels.
We are often discussing the new challenges of securely operating a power system with new renewable and storage technologies. Twenty years ago the National Electricity Market supply was much more uniform relying on conventional large power systems, predominately coal. But that was no cruise either as the power system then faced a routine threat as big as anything we face today, but has now abated: industrial action.