The Stranded Assets Programme was established in 2012 by the University of Oxford's Smith School of Business and the Environment. The latest analysis, Stranded Assets and Thermal Coal: An Analysis of Environment-related Risk Exposure was released on Thursday January 28. The primary focus of the study is to research how environment-related risks may strand coal assets. The assets focused on in the report are coal fired generation, coal mines and coal processing technologies.  
Coal fired power utilities
The top 100 coal fired generation companies are analysed around the world. The top 6 utilities all have individually larger generation capacity than all of Australia. AGL Energy is the only Australian company to rank on the list, ranking 42nd in the world. The majority of the list is made up of Chinese, US and Indonesian companies.
Table 1 shows the summary of findings for coal fired power utilities in selected countries and their respective level of risk associated with different aspects of environment-related risk facing coal fired power utilities.
Table 1: Summary of national risk hypotheses coal fired power utilities.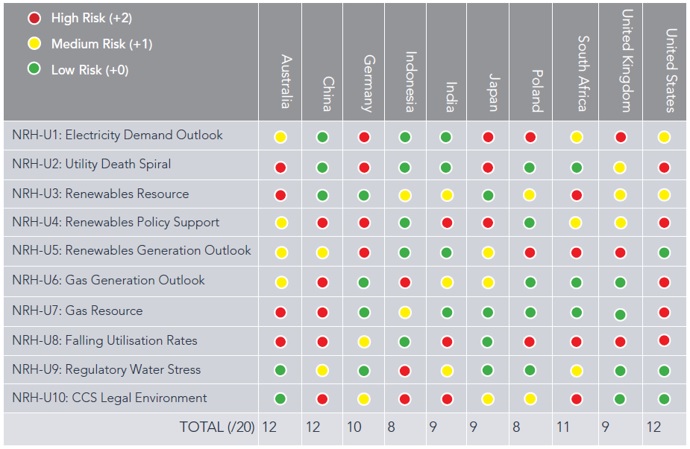 The high level macro analysis requires rules to allocate a value and the use of the most up to date data. The rules for each variable are described in the report and the data used is referenced throughout. Currently the most up to date data for Australia is 2013-14.
The usefulness of this assessment may be summed up by the fact that Australia (12) scores higher risk than the UK (9) where the Conservative government recently announced the phase out of all coal-fired power by 2025.
The report has up to date information on policy decisions in each country.
The report states that since 2009, black and brown coal-fired power generation has fallen at an average of 4.6 per cent and 3.9 per cent a year respectively. Over the same period wind power has grown at an average of 24.5 per cent while gas-fired and hydro generation over the same period have been constant. The years chosen are misleading, when not put in to context. 
In 2008-09, Australia's electricity generation peaked at 230 GWh. Each subsequent year generation has decreased.
The implementation of the carbon tax in 2012, followed by its repeal in 2014, led to a windfall profit for existing renewable energy participating in the wholesale market. Tasmania's exports to Victoria during the final year of the carbon tax increased dramatically compared to previous years. In 2010-11 Tasmania exported 1,315 GWh to Victoria, in 2012-13 this increased to 2,293 GWh. The reduction in brown coal over this period was a direct result of the increased market share of hydro during the carbon tax period. Figure 1 shows the annual change in generation by selected fuel types from 2006-07 to 2014-15.
Figure 1: Annual change in generation by selected fuel type across the NEM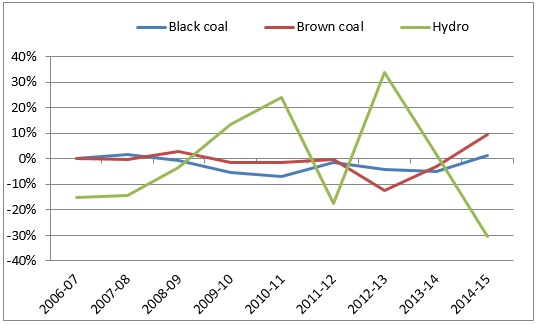 Source: NEM-Review
Brown coal and black coal generation have increased 10 per cent and 1 per cent respectively in 2014-15.
Australia's coal exports
Australia exported 325 per cent more coal than it consumed in 2014. According to the Oxford University, this places Australian mining companies at a high risk of losing market share if energy demand declines. This is not a definitive outcome, as the quality of coal imported may become a larger factor in the decision making process for importing countries. China has already banned high ash and high sulphur coal imports in 2015. As countries look to reduce emissions through higher efficiency coal generation, it's been argued that Australia's high quality coal could become more sought after even as demand declines. Table 2 shows the risk that has been allocated to each country.
Table 2: 2014 Coal exports (%) and export risk associated with falling global demand

Related Analysis
They say everything's bigger in Texas. The major power outages from which it is just emerging, were triggered by a polar vortex and impacted around 4.5 million customers. There's been plenty of finger pointing with intermittent renewables being blamed, questions raised about Texas's go-it-alone attitude and claims of poor preparations stemming from a deregulated energy market.
The shift to an increasingly low-carbon grid will continue to bring major structural changes to electricity systems around the world and, with it, new challenges in managing security on various levels.
We are often discussing the new challenges of securely operating a power system with new renewable and storage technologies. Twenty years ago the National Electricity Market supply was much more uniform relying on conventional large power systems, predominately coal. But that was no cruise either as the power system then faced a routine threat as big as anything we face today, but has now abated: industrial action.